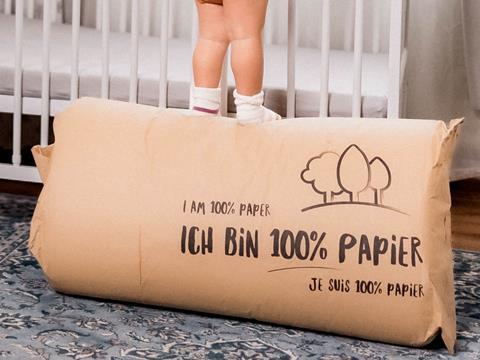 Mondi has developed Protector Bag ExpandForm, an expandable paper bag solution, to repackage Megaflex Schaumstoff's rollpacked mattresses.
Aiming to replace traditional plastic rollpack wrapping, Protector Bag ExpandForm – made from Mondi's kraft paper – is flexible, customisable in size, and claims to be recyclable. While its plastic alternatives can expand by up to 200% in transit, according to Mondi, the paper is said to secure the mattress, prevent damage to the outer cardboard packaging, and save on shipping and storage costs by remaining dimensionally stable throughout the delivery process.
As well as adapting easily to existing packaging equipment, it is reported that the bag is puncture resistant and compatible with printing, providing companies with branding opportunities. Its paper layers are thought to be breathable and can emit gases that can easily evaporate.
Through Megaflex Schaumstoff's collaboration with Mondi and FillMatic, it has become the first company to utilise Protector Bag ExpandForm for its products, and now plans to implement the packaging across its range of rollpacked products by the end of this year.
"Consumers are actively seeking packaging that is responsibly sourced and easy to recycle," explains Fabio Barbieri, sales director Paper Bags at Mondi. "This new solution ticks both boxes: it is easier to open and to dispose compared to large rolls of plastic and avoidable packaging used previously.
"Protector Bag ExpandForm needs no secondary packaging to protect the product and will be stable throughout the whole delivery journey. We are proud to be the first ones to introduce this innovative solution to the market."
Karsten Löhr, managing director at Megaflex Schaumstoff, adds: "The Protector Bag ExpandForm is a perfect fit for our mattresses and the plastic saving we estimate is significant - over 18 tonnes every year! The paper packaging is appreciated by our customers, and a big step forward in our sustainability journey, and thanks to our good partnership with Mondi we can use more sustainable packaging that positively contributes to our sustainability commitments."
Last year, Paptic and Familon packaged pillows and quilts in plastic-free packaging made from wood fibre, which claimed to be recyclable in existing paper and cardboard streams.
A more recent development saw Mondi collaborate with ATS-Tanner to produce a recyclable paper band for bundles or individually labelled products. This solution seeks to cut out unnecessary plastic packaging in e-commerce, fruit and vegetable, and beverage packaging.
Packaging Europe also spoke to Tarik Aniba, sales and marketing director at Mondi Corrugated Board, about its 100% paper-based shrink wrap alternative, Hug&Hold.
If you liked this article, you might also enjoy:
McDonald's Director of Sustainability in Europe on the company's approach to packaging sustainability
McKinsey on whether or not on-pack sustainability claims affect consumer spending
Perspectives from industry-leading experts on the EU's Packaging and Packaging Waste Directive revisions
A deep dive into the most important packaging sustainability trends and solutions