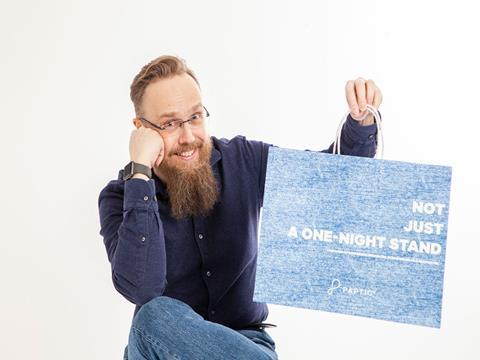 In this edition of our Rapid Interview series, we speak sustainability with Esa Torniainen from Paptic, a materials company offering fibre-based alternatives to plastic packaging.
Your elevator pitch: introduce and sell us your company in no more than 280 characters.
Paptic Ltd is a high-growth company established in 2015 in Finland. The company has developed Paptic, a fibre-based and recyclable material family, to replace plastics in packaging. Today, Paptic employs close to 30 professionals and Paptic materials are delivered to over 40 countries.
Where are your company's locations?
We operate globally close to our customers, supporting their sustainability targets. We come from Finland, the land of extraordinary fibre know-how. Selected contract manufacturers produce our materials in Europe, and our sales network serves brands and retailers globally.
Are there any specific challenges or advantages relating to your geographical location that you could tell us about?
We see the whole value chain through a sustainability lens. The first step is to ensure that raw materials come from sustainable sources. All markets are different, but as plastic accumulation is a global challenge, we're warmly welcomed when we go to introduce our materials.
Tell us a surprising fact about the market you work in.
It has been estimated that 8 million tonnes of fossil plastics end up in the oceans every year. That amount would be enough to cover the whole Baltic Sea, surrounded by 9 European countries, with a plastic film every year.
At Packaging Europe we like to watch trends and areas of innovation as they evolve. Can you tell us something we might not be aware of that is driving technology in your sphere?
Our uniqueness comes from our material technology. It brings benefits for our customers in their operations and brand valuation. Paptic runs well on the same lines as plastic films which makes it easy and riskless to change the packaging material. Many benefits, minimal risks.
What would you say is the biggest common misconception that you encounter in your business?
Sustainable use of wood, our main raw material, is a key issue. We choose our supply from sustainable, 100% transparent sources with ecological, social, and other measures. We procure only from places where the wood grows more than it's being used. This is a choice for the climate.
If the wider packaging industry could be transformed in some way, what kind of change would you like to see?
We need to think about how to make it as easy as possible for the consumers to act in a sustainable manner, e.g., recycling. If you need to separate the plastic parts from paper parts in packaging, a frustrated consumer might put it all in the wrong bin, or in the trash in the worst case.
…and how do you envisage your company changing the industry in the coming years?
Funny that you asked! Paptic materials are recyclable with paperboard and thus, by replacing plastic in bags with Paptic, recycling is easy and motivating. You can be sure the bags made of Paptic will be utilised again, according to the circular economy principles.