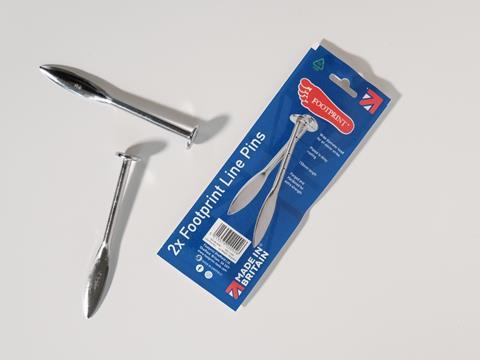 Footprint Tools has adopted a Paptic pouch, made of renewable wood fibres and thought to be recyclable at scale, in place of its standard card and blister packaging – a transition expected to save an annual 600kg of plastic per product, save money in transit, and more.
Paptic materials are thought to combine strength, sustainability, and tactile properties in a bid to phase out fossil-based materials in a range of packaging applications. FSC-certified versions of the materials are also available.
When applied to Footprint Tools' products, Paptic expects to ship more per box and lower transportation costs due to its lighter weight and reduction in outer packaging. Once it is on the shelf, the smaller pack is thought to take up less room and enable retailers to display more stock, while the 'elevated look' of its large print area hopes to optimize its shelf appeal.
It is thought that consumers are sometimes confused as to whether the standard plastic and cardboard solutions are recyclable, so Paptic allows easy disposal through a single waste stream. This is estimated to save 600kg of plastic every year for one product, and Footprint Tools anticipates that it will bring the company closer to its own sustainability goals.
"We chose Paptic for our packaging because we wanted to use a renewable material," explains Tim Jewitt, director of Footprint Tools. "We are delighted with the results so far and I actively encourage other brands to look at alternatives like Paptic. All the wins of the material change are not always in play sight."
"I'm so pleased with how this cooperation has progressed," continues Paptic's UK sales manager, Claire Birch. "I thank the Footprint Tools team for being the first in the market to use our material. Along with the hard work and effort provided by Criterion packaging, whose willingness to pioneer our material and offer it to this industry has been critical.
"We see there are many products in the DIY/tools market that could be packed in a more sustainable way and bring other benefits e.g., reduction in logistics costs and we know consumers appreciate an easily recyclable material when the packaging has reached the end of its lifecycle."
Paptic recently raised €23 million in growth financing for the industrial scale-up of its foam-based manufacturing technology, the expansion of its product portfolio, and its pursuit of carbon neutrality by 2030.
In other news, Bayer has joined PA Consulting and PulPac's Blister Pack Collective in search of a blister pack made from fibre-based materials; and Aldi is trialling a blister pack recycling scheme for its own-label medicines in collaboration with TerraCycle.
If you liked this article, you might also enjoy:
The L'Oréal approach to packaging sustainability
What steps is Apple taking to make its packaging more sustainable?
How did Brazil achieve its 100% aluminium can recycling rate – and can it be replicated in the EU?
Experts have their say on the EU's Packaging and Packaging Waste Directive revisions
Also, if you're interested in packaging sustainability, you will want to attend our Sustainable Packaging Summit in Amsterdam on 14-15 November. The Summit brings together leaders and pioneers from across the industry to align strategically, learn, network, and create a critical mass to accelerate change. You can learn more by clicking here, and you can buy a ticket to attend here.