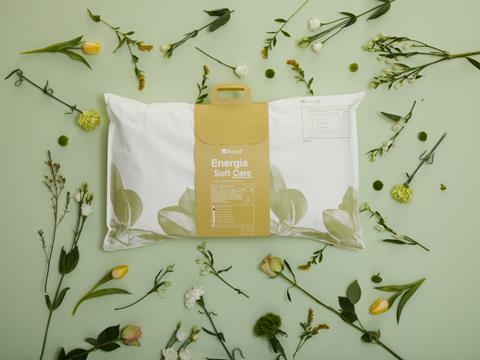 Dorsal has transitioned into recyclable, wood fibre-based Paptic material for its pillow packaging in a strategic move away from fossil-based plastics and towards more 'responsible' material usage.
Paptic materials are designed to cut down on flexible plastic packaging waste and phase out oil-based materials, with FSC-certified options available. It is said to offer strength, pleasant tactile properties, and breathability – wrapping easily around the pillows without distorting their natural shape.
Dorsal hopes that the transition will meet increasing demand from environmentally conscious customers, as well as its own commitment to sustainable progress and the responsible consumption of materials.
"Our customers have enthusiastically embraced the new Paptic packaging," says Lucia Moretti, vice president at Dorsal. "It beautifully complements the quality of Dorsal products.
"The pleasant and sustainable material perfectly aligns with our environmental values. Finally, we can wrap our pillows in bio-based, recyclable, and reusable packaging made from renewable raw materials sourced from sustainably managed forests.
"The personalized print is also valued, featuring both the Dorsal logo and the Paptic brand, which highlights the unique characteristics of the packaging.
"As part of our sustainability strategy, we are investigating the potential to reduce fossil-based material in our packaging by replacing it with Paptic also in our other product packaging."
Diego Caviola, sales manager at Paptic, adds: "We are extremely excited about our partnership with Dorsal. When two sustainably driven companies join forces, the cooperation is smooth, and environmental impact is achieved. The Paptic materials' unique qualities, such as flexibility and softness, function well in pillow packaging."
In February last year, Paptic worked with Familon to apply plastic-free, wood fibre-based packaging to pillows and quilts. The company has since received €32 million in growth financing to support the growth of its foam-based manufacturing technology, the growth of its product portfolio, and its pursuit of carbon neutrality by 2030.
Another bedding-related development saw Mondi apply its expandable paper bag, Protector Bag ExpandForm, to Megaflex Schaumstoff's rollpacked mattresses.
If you liked this article, you might also enjoy:
The L'Oréal approach to packaging sustainability
What steps is Apple taking to make its packaging more sustainable?
How did Brazil achieve its 100% aluminium can recycling rate – and can it be replicated in the EU?
Experts have their say on the EU's Packaging and Packaging Waste Directive revisions
Also, if you're interested in packaging sustainability, you will want to attend our Sustainable Packaging Summit in Amsterdam on 14-15 November. The Summit brings together leaders and pioneers from across the industry to align strategically, learn, network, and create a critical mass to accelerate change. You can learn more by clicking here, and you can buy a ticket to attend here.