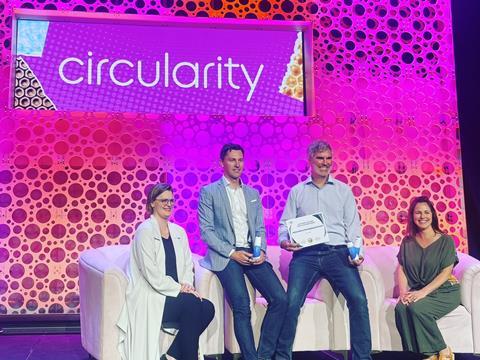 On the 6th of June, the U.S. Plastics Pact (U.S Pact) announced the winners of its 2023 Sustainable Packaging Innovation Award at GreenBiz's Circularity Event, with the winners representing circular solutions to packaging formats including fibre-based netting and PET oxygen barriers.
The U.S. Pact has set a national strategy with 'Activators' to eliminate plastic pollution across the packaging value chain, and the winners were announced along with U.S. Pact Activator Walmart.
Emily Tipaldo, U.S. plastics pact executive director, said: "innovation that complies with widely accepted design guidance is critical for packaging formats that don't yet have an identified circular alternative. These packaging solutions not only meet the design guidelines but they were developed with the customer and consumer experience in mind."
Jac Vandenberg's PackNatur® Cellulose Tube Netting won in the Compostability category with its tree fibre-based netting for bagged fresh produce, which can apparently run on existing bagging equipment. In the Recyclability category, winner Ring Container Technologies' BarrierGuard® OxygenSmart™ is the allegedly the first PET oxygen barrier of its kind to receive critical guidance from the Association of Plastic Recyclers, as it does not yellow in the recycling process and degrade the clear PET recycling stream, provides freshness for up to 24 months and can be used in containers with up to 75% rPET without impacting barrier properties, as well as hot-fill containers.
The Refill category saw twistMist™ win with its "first-ever twist-activated, propellant-free aerosol technology" offering up to 30 refills and designed to be compatible with applications including disinfectants, deodorants, hair treatment products. The aerosols are said to produce a 90% lower CO2 footprint than traditional aerosols as they can be made from recyclable bottles and are refillable and reusable.
Pact Retail Accessories' Reuse Solutions won in the Reuse category with its range of reusable packaging products designed for retailers including hangars, security tags, and polypropylene boxes.
Winners will apparently receive manufacturing trial discussions and potential to pilot with Walmart, four mentoring sessions with the Walmart Private Brands Packaging Teams, a technology showcase with staff from U.S. Pact Activators spanning the plastics value chain, and will be interviewed on Cory Connors' Sustainable Packaging Podcast.
Winners and Honourable Mentions were chosen by a robust judging panel that included retailers, manufacturers, and not-for-profit organisations. The submissions were evaluated based on their compliance with U.S. Pact and Walmart design guidelines, circularity, carbon impact, manufacturability, and impact on the consumer experience.
Honourable Mentions went to Smile Compostable Solutions' Home Compostable Coffee Pods in the Compostability category; The Paper People's Paperlock and Papyros Packaging's Papyrofoam™ in Recyclability; Reuseables Take Out Containers in Reuse and Nude Foods Market's Zero Waste Grocers in the Refill category.
Honourable Mentions will have the chance to participate in the U.S. Pact Innovation Award Showcase later this summer which targets packaging R&D and buyers from companies that use packaging, such as manufacturers and food service companies.
If you liked this article, you might also enjoy:
McDonald's Director of Sustainability in Europe on the company's approach to packaging sustainability
McKinsey on whether or not on-pack sustainability claims affect consumer spending
Perspectives from industry-leading experts on the EU's Packaging and Packaging Waste Directive revisions
A deep dive into the most important packaging sustainability trends and solutions