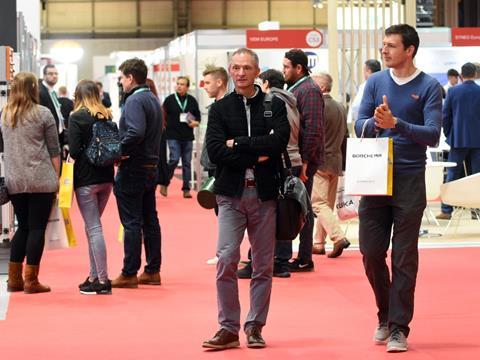 Interplas 2023 will take place at the NEC, Birmingham between 26th and 28th November with over 530 exhibitors and a lineup of conference sessions and events seeking to share knowledge and celebrate milestones within the global plastics industry.
Among the show's exhibitors are Arburg, Engel, Krauss Maffei, Wittmann Battenfeld, Sepro, Mouldshop, TH Plastics, Bole, Summit Systems, Borche, Haitian, Motan Colortronic, Simoldes, UK Extrusion, Negri Bossi, Billion, Piovan, Bausano, Ultrapolymers, Hasco, Distrupol, CMS, Fanuc, Albis, Snetor, BMB Spa, Campetella, and United Polymers.
Visitors will gain access to the Interplas Insights Conference, which will take place in a purpose-built theatre and discuss a range of themes and challenges within the plastics industry. This includes developments in recycling, materials, digitalisation, regulation, and more.
A series of interactive sessions will also take place within the programme, in which attendees can interact directly with speakers – many of whom are from leading associations within the plastics industry. A full overview of the conference is available online.
At the Introducing Stage, speakers from across the plastics sector will be available to hold conversations with attendees about moulding and forming, materials, automation, software, inspection, and other innovations within the industry. The Knowledge Pavilion, meanwhile, is set to offer opportunities to network and gather knowledge from representatives of the British plastics industry.
RECOUP, the Polymer Machinery Manufacturers and Distributors Association (PMMDA) and the Institute of Materials, Minerals and Mining (IOM3) will be available at the Pavilion to discuss R&D, training, regulation, and the industry's future.
As Interplas commemorates its 75th anniversary, the organisers of the event have called for individuals who have contributed towards the development of the UK plastics industry to be nominated; seventy-five of them will be announced and celebrated at the event.
Visitors and exhibitors will also be provided access to a new event hub and app in the hopes of improving their experience of the event and enabling efficient time planning. Using smart technology, the digital platform is anticipated to provide personal recommendations via AI, schedule one-to-one meetings with exhibitors and speakers, and enable engagement and connection with the community.
Duncan Wood, CEO of Rapid News Group and organiser of Interplas, commented: "The £27 billion UK plastics industry comes to Interplas to do business and with the largest number of exhibitors on the show since 2002, Interplas 2023 will be an edition that befits a 75th birthday celebration.
"There is a growing buzz across the industry, on social and in conversations that tells you Interplas is around the corner. The show floor is going to be packed with innovation and visitor registration is flying along well ahead of previous editions, if you are involved in any way in the plastics industry then you have to be at the NEC at the end of the month!"
Ian Taylor, managing director for Conventions & Exhibitions at the NEC Group, said: "Interplas was one of our very first shows at the NEC when we opened in 1976, so we're delighted to see it go from strength to strength as the UK's definitive and leading plastics event.
"We'd like to wish everyone connected to Interplas a very happy 75th year, as we welcome this year's event to the NEC on 26th September.
"We know the event will facilitate valuable trading opportunities for hundreds of exhibiting businesses, as the plastics industry comes together to showcase new products, machines and ideas."
"Interplas is the national showcase for the UK plastics industry," added Philip Law, director general of the British Plastics Federation. "If you're serious about doing plastics in the UK, you've got to be here.
"The BPF is excited to be both exhibiting and moderating talks at the 75th anniversary of Interplas - a show we have had a long relationship with. The BPF is celebrating an equivalent milestone this year. It is our 90th anniversary.
"We encourage our members and all those with an interest in the BPF's activities to come and visit us during the show."
JLR, McAlpine & Co, Recipharm, L'Oréal, Dyson, Nissan, Aldi, BD, Kohler Mira, Caterpillar, Bentley Motors, Amcor, Tata Motors, LEVC, Aqualisa and Lear Corporation are listed as some of this year's attendees. Registration is available via the Interplas website.
If you liked this article, you might also enjoy:
McDonald's Director of Sustainability in Europe on the company's approach to packaging sustainability
McKinsey on whether or not on-pack sustainability claims affect consumer spending
Perspectives from industry-leading experts on the EU's Packaging and Packaging Waste Directive revisions
A deep dive into the most important packaging sustainability trends and solutions