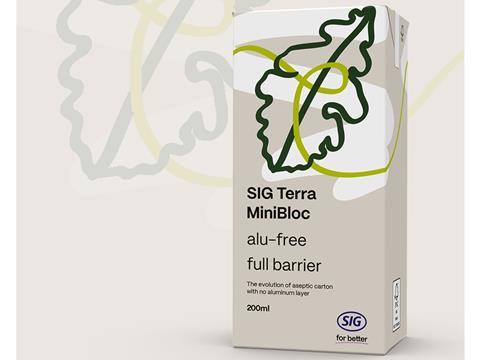 SIG has received two awards under the 4evergreen alliance's Circularity Success Stories initiative – the Design for Circularity award for its full barrier, aluminium-free material for aseptic carton packs, and the Circularity Best Practices award for the Palurec PolyAl recycling plant.
SIG is one of over one hundred members of the cross-industry 4evergreen alliance, which encompasses industry players in the forest industry and producers, designers, brand owners, and recyclers of fibre-based packaging. It has set a target for a 90% recycling rate for fibre-based packaging in Europe by 2030.
Under the Circularity Success Stories initiative, the alliance recognizes the individual and collective projects and initiatives that pursue circularity and fibre-based packaging with the support of 4evergreen tools. SIG's awards allow the company to present at the 4evergreen Annual Conference scheduled for 20th November, taking place in Brussels and online.
In its efforts to reduce aluminium and polymer usage while maintaining high quality in its packaging materials, SIG has released its Terra Alu-free + Full Barrier portfolio – reportedly the world's first full barrier solution for aseptic cartons with no aluminium layer. It is set to be applied to oxygen-sensitive products such as juices, apparently offering barrier properties comparable to standard aseptic cartons to protect food and beverages for long periods of time without the need for refrigeration.
Additionally, the company emphasizes its approval of collaborative efforts to keep used beverage cartons in a material loop and has set its sights on the ten industry commitments of the Alliance for Beverage Cartons and the Environment (ACE)'s roadmap. This includes a recycling rate of at least 70% of used beverage cartons in the EU verified by third parties.
The Palurec PolyAl recycling plant was launched in Germany by the Fachverband Kartonverpackungen für flüssige Nahrungsmittel e.V. (FKN – Association for Beverage Cartons) and converts PolyAl – the plastic-aluminum mix recovered from used beverage cartons – into marketable raw materials. It began operating in 2021 through joint investment from SIG, Elopak, and Tetra Pak.
The Design for Circularity award commends the benefits of Terra Alu-free + Full Barrier portfolio on the food and beverage sector and the packaging industry at large, while the Circularity Best Practices award honours the contributions of SIG and its industry partners to increase recycling rates for used beverage cartons in Europe.
"SIG is honored to accept these two circularity awards from 4evergreen that are a testament to our commitment to circularity in the beverage carton industry," says Stefan Mergel, head of Global Sustainability and Digital Marketing at SIG. "We are continuously striving to improve our offering through sustainable innovation and push our industry towards a more sustainable packaging future.
"I would like to thank our dedicated teams for their hard work and vision, and our industry partners for joining us on this journey."
Other developments from SIG in recent months include the opening of an aseptic carton packaging production plant in Queretaro – set to produce 500 million carton packs in its first year – and the release of SIG DomeMini, an on-the-go carton pack designed to provide the same convenience as a plastic bottle in a recyclable, downsized alternative.
Meanwhile, the 4evergreen alliance has released a second version of its Circularity by Design guideline to expand on design for recycling advice for beverage packaging.
If you liked this article, you might also enjoy:
The L'Oréal approach to packaging sustainability
What steps is Apple taking to make its packaging more sustainable?
How did Brazil achieve its 100% aluminium can recycling rate – and can it be replicated in the EU?
Experts have their say on the EU's Packaging and Packaging Waste Directive revisions
Also, if you're interested in packaging sustainability, you will want to attend our Sustainable Packaging Summit in Amsterdam on 14-15 November. The Summit brings together leaders and pioneers from across the industry to align strategically, learn, network, and create a critical mass to accelerate change. You can learn more by clicking here, and you can buy a ticket to attend here.