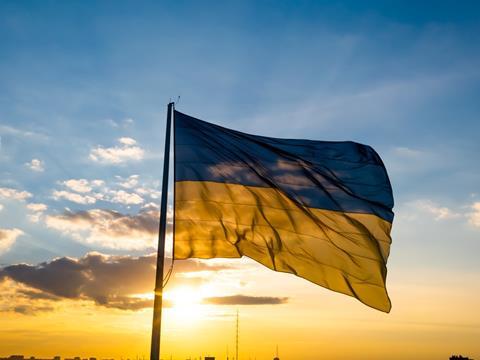 Print Against War, an independent movement led by members of the global printing and packaging industry, is facilitating communication with companies in Ukraine and encouraging collaboration with partners in the rest of Europe. Read some of the stories of its members here, as we explore how the movement is providing support to Ukraine's printing industry now and in the future.
Building a support network
Before Russia's invasion of Ukraine on February 24th, 2022, Print Against War says that the printing and packaging industry in Ukraine employed more than 100,000 people, representing workforces at more than 5,000 print and converting companies. As the war in Ukraine continues, Ukrainian printing and packaging companies have suffered damage or complete destruction to facilities, the loss of most of their orders and turnover, and difficulty in securing wages.
Through direct calls, interviews, and interactions with discussion groups, the Print Against War team is aiming to keep in communication with Ukrainian printing and packaging companies, recording their difficulties and consolidating their requests for help. According to Print Against War, the priority of many companies is ensuring the safety of their employees, keeping their company open, and ensuring that they can pay a minimum wage.
With Ukrainian printers and converters unable to rely on domestic orders and exports to Russia, Print Against War says they are facilitating partnerships with European companies, to which Ukrainian companies can apparently supply printed materials at reasonable costs. While there may be some logistical issues, Print Against War says many companies are ready to produce and ship.
Lorenzo Villa, co-founder of the Meaningful Print Foundation, explains: "We were able to talk to some medium and large commercial printers. They are ready to handle large print volumes using their multi-color B1 and B2 size offset presses and bindery departments.
"We also met with several digital native print houses specializing in short runs, just-in-time jobs, indoor and outdoor campaigns, using sheetfed digital presses, large format printers, and cutters.
"Besides integrated groups, several small and medium-sized packaging converters can produce printed and embellished boxes and labels. Some have invested in state-of-the-art digital embellishment and narrow-web digital label presses."
New Media: "We don't want to relocate our facilities to Europe because we are patriots of Ukraine"
Print Against War has interviewed companies including Odessa-based New Media, a 100% digital printer and label converter whose owner, Viktor Artyushchenko, is looking for clients and partners to supply roll labels and embellished prints.
In an interview with Print Against War, Artyushchenko says: "We started in 2014 as a digital printing house, producing advertising materials like flyers, business cards, booklets and so on. Now we have three industrial-class printing machines from Konica Minolta.
"We bought most of this equipment during the COVID quarantine, because we thought that there would be significant growth after the pandemic period. Now, we have a lot of technology, but very low sales.
"We were closed for just nine days when the war began. It was because some rockets or some bombs landed maybe 500 meters from our workshop. That's why we closed everything and asked our people to stay at home or to move near the border.
"We were working half a day under the curfew. Then we called all our customers. We are working now. In Odessa, our mayor and our government asked everybody to start working, go to their offices, go to their workshop and start doing something. So, people and employees understand that situation is controlled. It's more therapeutic to work, to speak with our customers."
According to Artyushchenko, New Media has received a 60% discount on rent and as part of an initiative launched by the Ukrainian government, it was granted approximately €200 for each of its employees, around 35 in total, as a fixed payment.
"In April, I can say that our sales are growing: if in March it was 10% of our regular volume, in the first part of April it's about 20%. So, we can pay not all but half of the salary to all our staff," Artyushchenko adds.
A challenge for New Media is delivery, with many courier companies like DHL and UPS having stopped work in Ukraine. Ukrposhta, a Ukrainian carrier, is "overloaded", Artyushchenko notes.
Overall, the company is "looking to be an affordable partner in terms of price. We don't want to relocate our facilities to Europe because we are patriots of Ukraine, and we think our country after the war has a significant outlook for growth. That's why we want to stay here and work here. But we should support our employees for three to five months, or till the end of this year."
PrintStore Group: "We are currently working in wartime mode"
In another interview with Print Against War, Oleg Doroshenko, owner of PrintStore Group, discusses how his company has fared in the months since Russia's invasion.
PrintStore Group is based in Kyiv, but Doroshenko and his family, including his one-year-old daughter, were forced to evacuate their home in Makariv after taking shelter from attacks by the Russian military in their basement for 10 days. Doroshenko has since sent his family on to Ireland after it joined a number of EU countries in welcoming refugees from Ukraine.
"The history of our company began back in 2007," Doroshenko says of his printing experience. "We first started as an advertising agency, with the ambitious name Intercontinental Ukraine. We set the goal of becoming a leader in the printing industry in Ukraine. And in 10 years, our dream has come true — we were confidently in the top 10 offset printing houses in Ukraine!
"We love to perform complex projects and tasks that are beyond the power of a simple printing house, and we often require the involvement of several printing houses, our reliable partners, to implement the project.
"Before the war, we printed a lot and had customers from Ukraine and Europe (more than 200 Ukrainian and foreign companies and corporations), so we welcome everyone from all over the world to print in Ukraine to support our printing industry after the war.
"We are currently working in wartime mode — we continue to fulfil critical orders for our customers, although, I must admit that the number of orders has fallen critically.
"We're proud that some of our personnel decided to serve to protect Ukraine from armed aggression by the Russian occupiers. The priority for us now is the financial support of our staff during this difficult time and the restoration of our printing industry after the war.
"We are confident that this war will end soon, as the occupier is running out of all possible resources to continue a war of this scale with Ukraine, the largest country in Europe."
Providing support and solidarity in the long-term
"Communication is more important now than ever," says Igor Agarkov, publisher of Print+ magazine, who is currently staying in Boryspil, a satellite city of Kyiv. He says the situation is "relatively calm" where he is, but the area is still under fire from missiles and cannonades. "Working and communicating with printers for the last 25 years has been an integral part of my life. Nothing has changed. Messengers work, the Internet works, telephone communication with most regions of Ukraine remains."
However, Agarkov notes that "it is very difficult to estimate" how many companies are still open and running in Ukraine. "It is unlikely that there is a methodology that allows you to accurately estimate the number of working printing houses."
Additionally, "the willingness of owners to restart print shops depends on a number of factors. The most critical, of course, are war-related activities." Agarkov highlights the shelling of Dunapack, a leading manufacturer of corrugated packaging based in Oleshky near Kherson, which killed one employee and injured others. Protecting employees is a priority – but as noted by Artyushchenko, continuing to work is more "therapeutic" for some than nervously awaiting news or further attacks.
For people who have evacuated Ukraine, drupa, a printing industry international trade fair, is providing shelter for 1,500 Ukrainian refugees in Hall 6 at Messe Düsseldorf in Germany. "Where we normally bring together global players from the print industry, we are now offering shelter to people seeking refuge from violence and destruction," explains Sabine Geldermann, director of drupa.
For people who have remained in Ukraine, Agarkov states: "We do not strive to live forever on grants and subsidies from the EU or the US. We know how and want to work and earn ourselves. I am sure that all printing houses in Ukraine will strive to restore business as soon as possible.
"The quick recovery of printing will depend on several factors. The most crucial ones are personnel and the lack of consumables. The lack of professionals was there before. With the growth of the economy in 2021, it has become less noticeable, but now the situation is understandably uncontrollable. Many will have to start from scratch.
"As for the consumables, there is an obvious crisis in the world market, which leads to a shortage of paper, carton and other product groups that are in demand in the printing industry. In combination with aggression in Ukraine, the situation seems to be very complicated.
"I think a lot will depend on the desire and readiness of vendors to support the Ukrainian printing industry not in words, but in deeds. They should cancel quotas on the supply of raw materials, and also introduce loyal conditions for their shipments."
In an interview with Packaging Europe, Alexander Sobolenko, chief business development officer and co-founder of the Ukrainian company Re-Leaf, says that "the best thing the packaging industry can do to support its Ukrainian colleagues is to continue buying "Made in Ukraine" products.
"Not a single entrepreneur is caring now about profits, but everyone is trying their best to save the country's economy and provide other people with means for living.
"So, by buying Ukrainian paper, packaging, or services, other companies contribute immensely to the survival of the Ukrainian economy and human lives."
Meanwhile, Oleksandr Grytsenko, founder of the Ukrainian start-up Duopack, which makes flexible stand-up pouches with a partition that allows two products to be dispensed individually or at the same time from one pack, has established the Buy Ukrainian project. The company's LinkedIn network offers "additional assistance of all specialists from the packaging industry, as well as from other industries, in the promotion of all Ukrainian goods".
Print Against War is urging people from across the printing and packaging industry to join its movement, which includes a private group for networking and cross-referencing requests and offers for help.
In collaboration with the Packers Club of Ukraine, Packaging Europe is also running a live page to showcase Ukrainian companies and facilitate connections with the rest of the European packaging value chain. The page will be updated periodically to include new listings.