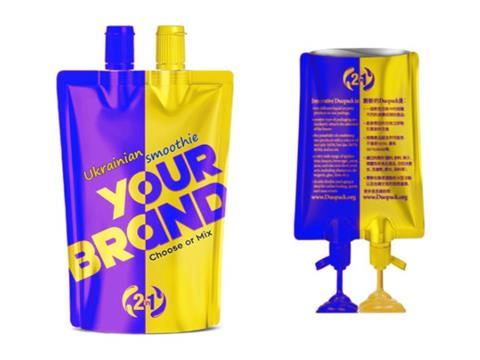 Duopack is a flexible packaging solution for stand-up pouches that features a partition dividing the products into two distinct parts, allowing them to be dispensed individually or at the same time depending on the application.
Duopack was created in 2018 by a team of Ukrainian entrepreneurs. The start-up's founder, Oleksandr Grytsenko, expands on Duopack's dual packaging system, as well as his 'Buy Ukrainian' campaign to bring together the packaging industry in support of Ukraine after Russia's invasion.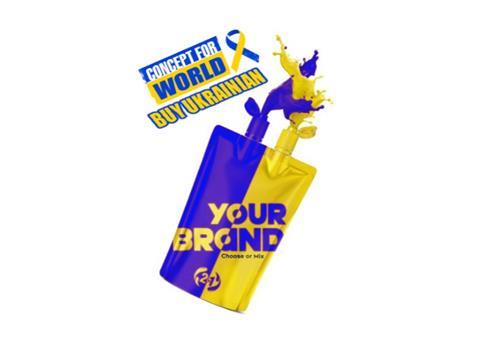 Doubling down on consumer convenience
Duopack offers a twist on the traditional stand-up pouch design: a division that isolates the products from each other, allowing them to be packaged in the same pouch without coming into contact. The products can be packed in equal volumes or variable amounts, such as 30:70 or 40:60.
"Having gone through a long process of patenting in every single country of the world, there are already patents for the industrial design of Duopack in such countries as Ukraine, USA, China, India, the European Union, Turkey and Egypt," Grytsenko tells us. He adds that Duopack can be used to offer a combination of products in a single flexible pouch across applications.
For food, this could include sauces like ketchup and mustard, allowing the consumer to dispense them simultaneously or separately from the same pouch. Grytsenko says that this provides a quick and convenient solution for consumers, especially in fast food settings and at events such as music festivals or sprots matches. Additionally, this could help to save time and improve hygiene during food preparation both at home and commercially, as sauces or other products like olive oil and vinegar can be dispensed from a single Duopack pouch without the need to locate and handle multiple bottles.
As Grytsenko notes, "the consumer gets the right to choose to use the two products separately or together". This introduces an additional level of flexibility for consumers, which could improve their experience of a restaurant, event, or product.
Grytsenko also says Duopack could enhance the convenience of personal care products like liquid soaps and cosmetics for consumers. For consumers who are on-the-go or travelling, Duopack is apparently lightweight, helps to save on space, and eliminates the need for multiple rigid bottles or containers.
As for home care products, Duopack can be used for detergents, allowing consumers to either combine or differentiate products depending, for example, on the load type. This also helps with getting the dosage right, potentially reducing product wastage and saving money long-term.
"The innovative and creative appearance and design of Duopaсk simply makes the consumer take the product in hand," Grytsenko explains, adding that the on-shelf appeal of Duopack encourages swift purchasing decisions. Additionally, the intuitive nature of the dispensing system further encourages consumers to engage with Duopack, especially in fast-moving settings like restaurants and events where convenience is key.
Coupling sustainability with creativity
According to Grytsenko, Duopack also has several benefits for brands. In the personal care segment, it allows brands to ensure that products with complementary properties like shampoo, conditioner, or hair dyes are purchased together to maximise efficacy.
For applications that require products to be mixed just before use – such as epoxy resins or herbicides – Duopack offers a way for brands to present these products together while ensuring that they do not intermingle too soon. Grytsenko explains that this makes the products safer to handle during transport, warehouse storage, on the shelf, and for customers.
In addition, "a manufacturer with several products in its line, without investing money in the development of new flavours, can launch a new brand on the market by using two existing products without mixing. The mixing process itself in various proportions remains with the consumer." This can allow for unique product combinations that help brands to stand out and engage consumers through creative marketing schemes that play on the dual packaging format.
Brands can also differentiate via design with Duopack, according to Grytsenko. The surface area of the Duopack pouch can be "easily and completely covered" by images, text, or other design features, while the filling process helps the pouch to retain its size and shape.
"Flexible packaging has always had and will continue to have an advantage over rigid plastic, glass and aluminium packaging," Grytsenko adds. "In general, flexible packaging is one of the cheapest types of packaging."
From a sustainability perspective, Grytsenko claims that Duopack flexible packaging has a lower environmental impact than rigid packaging types because of its reduced weight from both a distribution perspective and in the case that, where the right infrastructure is in place, it is collected for recycling. The dual design and function of the packaging also has the potential to make production lines more efficient, reducing environmental and financial costs for companies.
"Biodegradable films have already been invented that can be effectively used in the production of Duopaсk," according to Grytsenko. This could help with the end-of-life challenge for flexible plastics, which are considered difficult to recycle.
"Duopack is the continuation of the duality trend of packaging and the next step in the development of flexible packaging doy-pack pouches," Grytsenko says. "This format corresponds to the current areas of functionality, healthy lifestyle, the format of electronic commerce and more."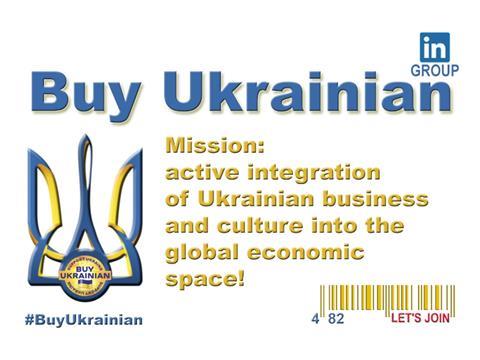 The importance of buying Ukrainian
As the war continues in Ukraine, one of the most important ways the packaging industry can support its Ukrainian colleagues is by boosting, investing in, and purchasing from Ukrainian businesses. Grytsenko says that the packaging industry can support Duopack, a Ukrainian start-up, by providing "help in finding investors and specialist who are ready to develop the Duopack project".
Duopack has also started the 'Buy Ukrainian' project to support relief efforts in Ukraine. As part of this initiative, Duopack is planning a smoothie product for its dual stand-up pouches in blueberry and orange flavours, with the intention of the design colours matching the Ukrainian flag. The company has launched a LinkedIn page to facilitate "additional assistance of all specialists from the packaging industry, as well as from other industries, in the promotion of all Ukrainian goods".
The next steps for Duopack are closely linked to supporting Ukraine through and after the war. Grytsenko concludes: "After searching for interested parties in the development of the Duopaсk project, the production of packaging lines for bottling and filling with two different products will be launched.
"The investor or investors must commit themselves, within 5 years from the start of activity, to send 50% of the profits received to charity in Ukraine for its post-war restoration."
To join the Buy Ukrainian LinkedIn page, please follow this link: https://www.linkedin.com/groups/9182383/