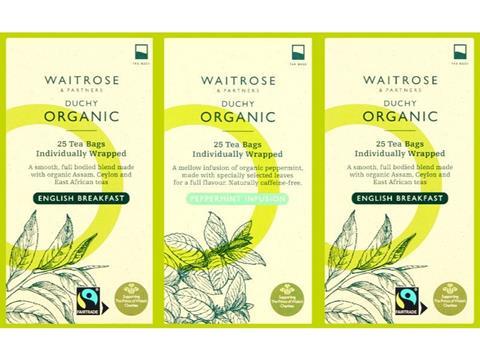 Waitrose has announced that it will now sell its own-brand tea bags in certified home-compostable packaging in a move aimed at keeping 12.2 tonnes of material out of landfill and incineration.
Having been accredited with TUV OK compost HOME certification, the company's Duchy tea bags can apparently be placed in home compost bins or heaps at end of life. They are thought to be a source of nitrogen, encouraging plant growth by enriching the soil in consumers' gardens.
The tags attached to the tea bags have also been redesigned to cut down on the amount of ink used and encourage a more effective decomposition process.
It is hoped that the switch will save 4.5 million Waitrose Duchy tea bags from going to waste in its first year. Although the remaining stock of non-compostable tea bags will still be used to avoid further waste, all Duchy tea bags sold online or in-store will feature compostable accreditation.
"The reality is that our customers want to make whatever changes they can to ensure they're shopping, eating and drinking more sustainably," says Christina Capellaro, packaging development manager at Waitrose. "By securing accreditation for products such as our Duchy home compostable tea bags, we're reassuring our customers that by making these little changes to their shopping habits, they can reduce their impact on the environment."
Back in 2021, Parkside utilised bio-based paper and Futamura's NatureFlexTM metallicised cellulose films in a compostable redesign for Bird & Blend's loose tea bag portfolio.
On the other hand, Abel & Cole recently removed compostable plastics from the packaging of its Fruit & Veg Boxes range in response to UCL's Big Compost Experiment – asserting that specific conditions are needed for decomposition to take place, and unless these are met, the packaging still contributes to plastic waste.