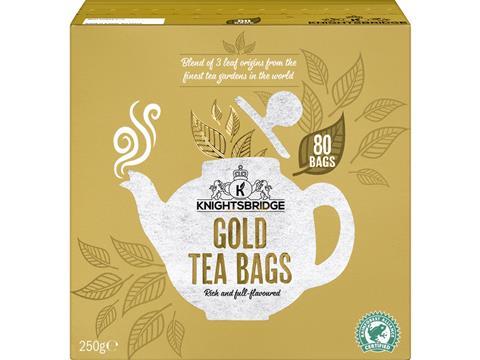 Lidl GB's own-brand tea bags are set to transition into 'fully compostable', plant-based PLA packaging in an effort to keep 800 million tea bags out of landfill every year.
The change will apply across the retailer's own-brand tea range, including its Deluxe Fairtrade Assam Tea, Knightsbridge Gold Blend Tea, and Knightsbridge Red Label Tea. Reportedly, the tea bags will now be disposable in food or green waste bins, with the new design also set to preserve the quality and flavour of the tea.
Through this transition, Lidl hopes to enable consumers to help cut down on the amount of single-use plastic waste ending up in landfill – as well as contribute to its own goal of reducing its own-label plastic packaging by 40% by the end of 2025.
"Those buying tea bags from Lidl are supporting our efforts to reduce single-use plastic going to landfill," said Shyam Unarket, head of Responsible Sourcing and Ethical Trade at Lidl GB. "We understand that even a few small changes to our products can benefit our customers, while helping us improve our impact on the planet – one cup at a time."
While existing stock gradually sells through, the new tea bags will be sold in stores in the coming months.
Waitrose made a similar transition earlier this year, aspiring to keep 12.2 tonnes of material out of landfill and incineration by selling certified home-compostable own-brand tea bags.
Parkside also designed 'fully compostable' flexible packaging for Bird & Blend's loose tea bag portfolio back in 2021.
Other plastic reduction efforts from Lidl include its new, 'recyclable' vacuum packaging for its beef mince range; and its collaboration with Prevented Ocean Plastic to incorporate 'ocean-bound' plastic waste into its sparkling water bottles.
If you liked this article, you might also enjoy:
McDonald's Director of Sustainability in Europe on the company's approach to packaging sustainability
McKinsey on whether or not on-pack sustainability claims affect consumer spending
Perspectives from industry-leading experts on the EU's Packaging and Packaging Waste Directive revisions
A deep dive into the most important packaging sustainability trends and solutions