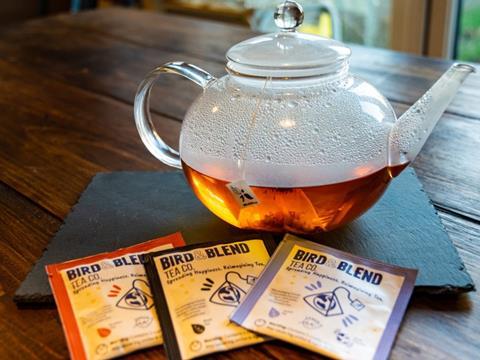 Flexible packaging specialist Parkside has developed new packaging for Bird & Blend's loose tea bag portfolio, which it says offers optimal barrier performance as well as being fully compostable.
Parkside says that packaging for Bird & Blend's loose tea bags – which are already plastic-free – is made from bio-based paper and metallicized NatureFlexTM cellulose films from Futamura, apparently manufactured from sustainably sourced wood pulp.
The packaging provides "outstanding" barrier performance, Parkside claims. This allegedly helps to maintain the freshness of Bird & Blend's loose tea bags and extend its shelf-life.
According to Parkside, the new packaging can break down entirely within 26 weeks, depending on the efficiency of the compost setting. The materials reportedly return to the soil without having any adverse effects on the environment.
Staci Bye, new business development manager at Parkside, comments: "The steps taken by Bird & Blend reflect a key message we are seeing for the packaging sector, which is that consumers are getting under the skin of 'sustainability', and want clear actions they can take to play their part on environmental protection.
"Compostable packaging is a very strong route of approach in this regard."
Matt Hendon, operations director at Bird & Blend, adds: "As a business, we are acutely aware of the scrutiny our industry can sometimes face when it comes to sustainability and ethical integrity.
"Our tea bags are already plastic-free, so the obvious next step was to boost the environmental credentials of our packaging."
Parkside has been conducting research and development into compostable laminates for almost a decade, and now offers over 20 TUV-accredited compostable structures as part of its Park2NatureTM range. The company has already worked with companies including Riverford on a home compostable pack for tomatoes, as well as a compostable pouch for Optibac's Kids Gummies probiotic supplement range.