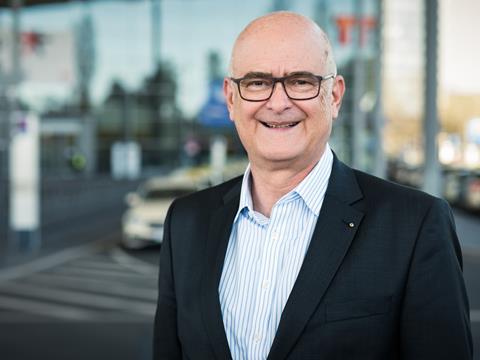 VDMA has announced the innovations it will exhibit alongside its partners at interpack 2023 – including seaweed-based packaging, a research hub for materials, and new packaging concepts created by university students.
In a bid to produce an alternative material to particular plastics, Brabender is exhibiting its reportedly biodegradable packaging film, made from a polymer extruded from seaweed. Technische Universität Dresden (TU Dresden) is also displaying its pneumatically and electromagnetically driven press, which is used to form algae film into a three-dimensional shape.
New packaging ideas from a student competition at the Leipzig University of Applied Sciences (HTWK Leipzig) will also be presented, set to showcase the 'skilled workers of tomorrow' to interpack's visitors.
The Saxon State Library - Dresden State and University Library (SLUB)'s Material Hub is an open and central material research platform that aims to enable its users to research construction materials with minimal effort. It contains material data from a range of sources under one search mask, with developers and designers able to find materials that benefit their individual purposes.
Imago Technologies' fully embedded, deep learning-based Vision Cam AI.go embedded vision system is thought to provide reliable inspection for quality features in various industrial application areas. Designed for beginners, its smart AI camera does not require extensive knowledge of programming or machine vision, it is claimed.
The Cologne University of Applied Sciences (TH Köln)'s electronic motor nameplate (eMTS) uses the motor power cable for the safe transmission of motor parameters to the invertor for encoderless drives. It is designed to replace metal nameplates and close the digitalisation gap between the motor and frequency inverter up to the control system.
Most of the innovations come from various branches of Fraunhofer, however, including its virtual reality training systems for the training and further education of operating and technical personnel. By utilising digital twin technology, it prevents learners to acquaint themselves with the technology without the real-world consequences that could risk damage or compromise machine availability; interpack visitors can test the machine on a thermoformed packaging production line.
Furthermore, it offers consultation for a company-specific digitalisation strategy. This involves support in transformation processes such as the implementation of networked production, a data exchange across the industrial internet of things (IIoT) or a value chain. Individual software for system integration and the use of AI in production can also be introduced through this service, the company claims.
Fraunhofer IVV Dresden's fibre-based packaging solutions and technologies for the safe processing of paper and alternative materials on high-speed machines will be visible at the booth, as will its 'virtual assistant' intelligent cleaning technologies. Expected to ensure product safety, the CleanAssist cleaning lance is apparently equipped with tracking sensors for the analysis and documentation of cleaning performance and spray shadow.
Furthermore, Fraunhofer IVV states that, using an AR device, a digital twin is transferred to the real-world cleaning environment and the cleaning progress can be tracked by the operator in real time. This is expected to ensure high-quality assurance and documentation and the guided optimisation of cleaning runs, as well as a reduction in errors stemming from incorrect processes.
Meanwhile, Fraunhofer's Mobile Cleaning Device (MCD) is described as a modular cleaning robot. It is available as an autonomously moving device and an inline version, depending on the application. The 'Inline-MCD' comes with various cleaning nozzles and brushes, with the device travelling on a product path via conveyor belts or rail systems at process plants.
A consortium with several Fraunhofer Institutes sees the Fraunhofer Institute for Secure Information Technology SIT present SmartID; this is an identification system that can apparently verify product or packaging authenticity throughout a supply chain at the touch of a smartphone. This can be undertaken by both customers and end consumers, with the technology being accessible offline and reportedly integrating seamlessly into packaging production.
Finally, the VDMA's knowledge portal for process and packaging technologies will be exhibited at interpack. It provides data, facts, and background information regarding the function and value of packaging, relevant laws and regulations, expert interviews, company examples, and more in a single information source.
"Smart engineering is the key to sustainable processing and packaging - and German mechanical engineering is a pioneer in this field," says Richard Clemens, Managing Director of the VDMA Food Processing and Packaging Machinery Association. "We are gladly anticipating interpack and are delighted that the industry can finally meet again after six years. A lot has happened in that period and visitors can look forward to a wealth of innovations."
Baumüller will display its energy monitoring and machine simulation software, water-cooled servo motors, and a new generation of servo controllers, amongst other intelligent drive and automation solutions set to facilitate sustainable and resource-efficient processes for the packaging industry.
Robatech will also exhibit its GreenSaver service, which is said to offer customers a detailed overview of the measures to identify and achieve optimal savings potential in gluing processes, alongside consumption-reducing jetting heads and another new product.