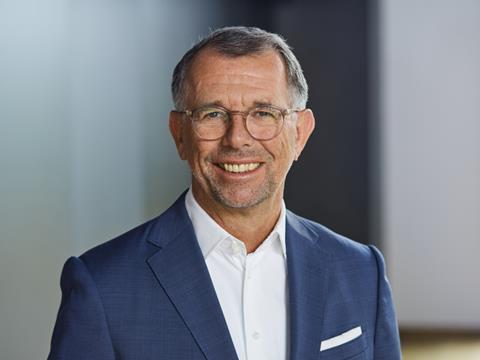 At interpack 2023, VDMA is discussing global trends surrounding sustainability and market growth in the food processing and packaging machinery sector – highlighting China as an important market, calling for revisions to the Packaging and Packaging Waste Regulation (PPWR), and more.
In 2022, companies in the food processing and packaging machinery sector apparently recorded a production growth of 7% in Germany, reaching €15.8 billion. Although a higher growth is thought to have been possible, ongoing supply chain difficulties and the fallout of Russia's invasion of Ukraine are said to have slowed economic development, with order intake thought to have fluctuated sharply from March onwards.
"Even in the difficult year 2022, the demand for our machines remained high," explained chairman Christian Traumann at the VDMA press conference at interpack. "This is primarily due to the fact that food processing and packaging machines make a decisive contribution to the safe supply of food, beverages and pharmaceutical products to a growing world population.
"The war in Ukraine, with all its consequences - rising energy prices, inflation and the associated interest rate policy - created uncertainty, especially in Europe, which was reflected in a reluctance to invest."
While exports to the EU-27 and Other Europe regions reportedly fell by 4% and 8%, respectively, over half of Germany's food processing and packaging machinery exports were delivered to non-European countries, many of them in North America and Asia. €1.4 billion's worth of machinery was delivered to the USA with Germany as its most prominent supplier, followed by Italy.
VDMA also highlights that, in spite of China's zero-COVID strategy and the subsequent travel restrictions, exports to China increased by 11% at €605 million, making it the second most prominent market for such machinery and suggesting its high demand for European processing and packaging technology.
However, industrial players are said to be facing a tailwind due to the rising global population, with non-European countries in general driving a 5% of order intake. A shortage of skilled workers is also causing a bottleneck for two-thirds of companies, according to a survey conducted by VDMA in March 2023; as such, when combined with a high order backlog, the sales forecast for 2023 has been placed at a plus of between 8% and 10%.
"Our order books are still well-filled and we also expect strong impetus from interpack," said Traumann. "However, we cannot estimate how the geopolitical risks, inflation and the associated interest rate policy in the individual countries will affect investments and thus our business development."
In terms of sustainability, VDMA takes issue with what are believed to be inaccuracies in the individual articles of the PPWR and a lack of consideration for the overall eco-balance in some contexts. A VDMA position paper released in March 2023 outlined the organisation's stance.
"In principle, we support the objectives of the new EU Packaging Regulation and welcome that it is changed from a directive to a regulation," explained managing director Richard Clemens at the press conference. "This is because it will be valid for all EU Member States immediately after having come into force. It will thus replace the current 'patchwork' of specific packaging regulations in the EU Member States."
However, he stated that VDMA is "very critical of the mandatory use of recycled materials in food packaging, because this packaging has a protective function for human health. Issues such as possible contamination, food safety and hygiene must definitely be taken into account here. Therefore, packaging with recycled content must comply with the EU regulations for food contact materials."
He also drew attention to the PPWR's 'blanket bans' on packaging types and formats, such as the elimination of fruit and vegetable packaging and the mandated removal of disposable packaging from the hotal-restaurant-catering sector. "These bans have an impact on all links in the value chain, including mechanical engineering," he explained. "Business models established over decades would face extinction due to blanket bans. From our point of view, this needs to be improved."
Similarly, Traumann called for a reduction in bureaucracy and highlighted the importance of open markets for the international success of mechanical engineering. Fair trade agreements with important trading partners are the only solution to preventing trade barriers in the European industry, he claims.
"If a transformation of the manufacturing industry is to succeed, we must not be overwhelmed with regulations, but must be supported by policies that promote industry and small and medium-sized enterprises," he said. "Innovation needs entrepreneurial freedom and competition.
"We need China as a sales market and we also need products from China. And China needs the EU market. We should not forget that and represent our own industrial and location policy interests to a greater extent than before."
In the pursuit of more sustainable consumption and thus climate protection, VDMA observes that food processing technology is focusing on the reduction of energy and water usage in food production, alongside efforts to optimise the use of raw materials. It notes that manufacturers are making greater use of mono-materials over multi-layer composites and designing their packaging for recycling at end-of-life.
Fibre-based packaging is also gaining popularity in safe and appropriate applications, says VDMA, with further research into bio-based packaging solutions currently taking place. Additionally, collaborations between manufacturers, research institutions, and customers are said to be driving the development of packaging concepts and machinery.
VDMA's own partners are displaying various innovations at interpack, from a research hub for materials to new packaging concepts created by university students.
Also attending the trade fair are Shemesh Automation with its two new A-Z turnkey packaging line solutions, which intends for customers to source all their integrated equipment from one supplier to reduce costs, servicing, and environmental harm; and ROTZINGER Group's new feed placer, filling and capping machine, bar production line, and upgraded blister machine.
If you liked this article, you might also enjoy:
McDonald's Director of Sustainability in Europe on the company's approach to packaging sustainability
McKinsey on whether or not on-pack sustainability claims affect consumer spending
Perspectives from industry-leading experts on the EU's Packaging and Packaging Waste Directive revisions
A deep dive into the most important packaging sustainability trends and solutions