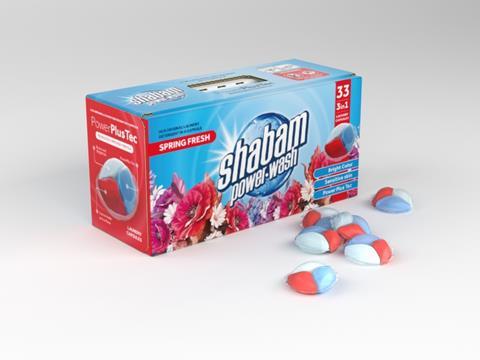 Smurfit Kappa has introduced the patented TopLock Box, a plastic-free, paper-based packaging solution for detergent pods and capsules with child-proof features.
According to Smurfit Kappa, the TopLock Box is 100% plastic-free and made entirely from FSC-certified paper-based packaging, which the company adds is renewable, recyclable, and biodegradable. The new paper-based laundry box solution reportedly offers a 40% carbon footprint reduction compared to traditional rigid plastic alternatives.
Smurfit Kappa says that the TopLock Box's opening mechanism also makes it a safe and convenient solution for companies seeking a more sustainable alternative for child-proof packaging. The paper-based solution is apparently also leak-proof.
In addition, the box can be delivered as a flat, single item for inbound logistics and storage savings, Smurfit Kappa explains. The company adds that the dimensions of the pack can be tailored to increase supply chain efficiency.
Arco Berkenbosch, vice president of innovation and development at Smurfit Kappa, comments: "We are delighted to introduce our newest child-proof packaging solution to the market.
"Our innovation team has worked tirelessly to develop a brilliant solution that has the potential to be used for other products that need to be kept out of reach of children like, for example, medication.
"We have created an adaptable and flexible solution that can increase the efficiency of our customers' supply chains which ultimately helps them achieve their sustainability and business goals and creates a fantastic consumer experience."
The TopLock Box is the sister packaging solution of Smurfit Kappa's Click-to-Lock Pods Box, which launched last year and is also paper-based with a varnish inside to provide a moisture barrier and a child-lock system for enhanced safety.