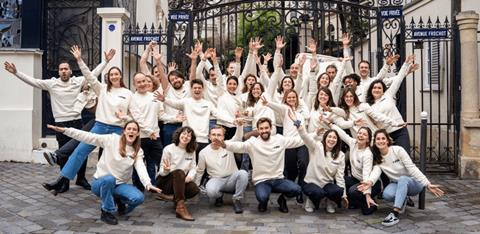 BIBAK, a solution for the reuse of containers in catering and events, has raised €6 million in additional funding. The company hopes to use this new injection to capitalise on France's recent ban on single-use packaging in restaurants and cafes.
The company's backers include Founders Future, MAIF Impact, Seed One, Notus Technologies, several Business Angels, and a new member of SWEN Capital Partners' Blue Ocean Fund. ‍
‍With this new series A financing, BIBAK mainly intends to continue the development of a complete technological solution for the reuse of containers focusing on digital deposit systems, collection devices, gamification, logistics, and traceability – thanks to the recovery and use of data collected during returns.
Through the use of data, BIBAK is marketing itself as a 360° platform that simplifies the lives of restaurateurs via inventory tracking, measurement of the return rate, control of refund flows, quantification of environmental impact, and real-time personalized reports, etc.
The company's return terminals aim to adapt to the reality on the ground, facilitating the return gesture for consumers via access to numerous collection points, automated reimbursement, and the decongestion of the return flow of containers.
A cashback and gamification solution is also integrated into existing payment systems. Incentive models based on a playful and practical approach aim to maximize the return of containers – and their rotation.
"Our mission is to initiate a broad societal movement to move from disposable to reusable. On the one hand, by setting up long-lasting operational processes and a profitable economic model for restaurateurs and on the other hand, offering a simple and fun consumer experience, facilitating the adoption of a solution," comment Yasmine Dahmane and Lucas Graffan, co-founders of BIBAK.
"BIBAK's solution makes reuse more attractive, efficient and economical than single use for consumers and restaurateurs. This is the key for mass adoption, and therefore a rapid and profound transition of our economy towards circularity. We are delighted to support BIBAK in its growth and its impact on the planet and our society," adds Christian LIM, Managing Director of SWEN Blue Ocean.
BIBAK's core area of activity is expected to be France where, since the start of this year, single-use packaging and cutlery have been banned from takeaways, restaurants, and cafes.
More than 150 large companies already use BIBAK's services, including Société Générale, Engie, Danone, Vinci. With more than 100,000 users, and 200 partners, mainly in collective catering and fast food, as well as in events at the Like We Love Green and Roland-Garros, the company claims to have replaced more than 1.5 million pieces of packaging.