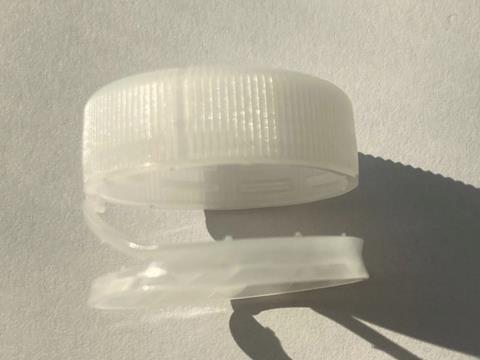 TotalEnergies has launched its new HDPE 20HD07 resin for tethered cap applications in a bid to lower its material usage, enhance material recovery, and improve recycling.
Designed to be applied to mono-material polyethylene packaging solutions, the resin hopes to contribute towards sorting and recycling efforts and contribute towards a circular economy.
The enhanced mechanical and organoleptic properties of the material are expected to facilitate the same technical cap performances as market alternatives while reducing the materials used. As such, it is said to cut down on the carbon footprint of end applications, including beverage and cosmetic bottles.
The resin is thought to comply with the European Directive (EU) 2019/904, which calls for a reduction in the environmental impacts of plastic products. TotalEnergies claims that it is suitable for food contact and complies with all the market requirements for caps and closures.
"TotalEnergies is fully committed to improving the environmental impact of its products," says Olivier Greiner of TotalEnergies. "Applying eco-design principles in our development process allows us to push downgauging possibilities further, while maintaining high performance and enhancing recyclability, in line with our ambition to produce 30% circular polymers by 2030."
Last year, NOVA Chemicals unveiled a new HDPE resin technology for MDO and BO to facilitate the production of recyclable, mono-PE packaging for demanding applications; and Hoffmann Neopac introduced a range of post-consumer recycled caps for personal care and beauty packaging, which are reportedly compatible with existing HDPE waste streams.
Sulapac's Sulapac Luxe is a bio-based material expected to replace ABS and other hard plastics in bottle caps for high-end luxury cosmetic products. Released earlier this year, it is made of 'sustainably sourced' bio-based and degradable polymers and wood flour from industrial side streams.
If you liked this article, you might also enjoy:
McDonald's Director of Sustainability in Europe on the company's approach to packaging sustainability
McKinsey on whether or not on-pack sustainability claims affect consumer spending
Perspectives from industry-leading experts on the EU's Packaging and Packaging Waste Directive revisions
A deep dive into the most important packaging sustainability trends and solutions