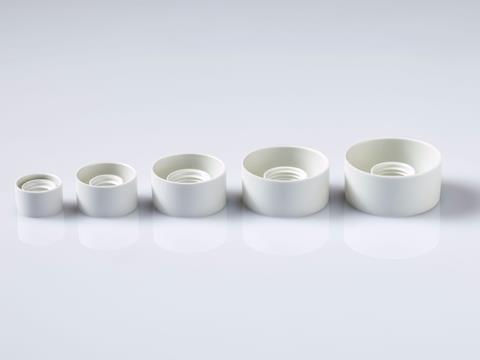 Hoffmann Neopac has unveiled a 'first-of-its-kind' range of post-consumer recycled caps for personal care and beauty packaging, with the three designs claimed to be compatible with existing HDPE streams.
The series currently includes screw caps from 19-40mm in diameter, a flip-top cap at 35mm in diameter, and an octagonal cap for sample tubes. All three are made using rHDPE.
Said to contain approximately 70% PCR, each cap can be combined with a 'sustainably-minded' tube to result in a pack made up of 77% recycled material. Additionally, the caps are claimed to be produced using 50% green electricity at Neopac's manufacturing facilities in Switzerland and Hungary.
Neopac also says that the caps have achieved ratings for post-consumer recycled content, post-industrial recycled content, and International Sustainability & Carbon Certification (ISCC+); they can also come with food-grade light statements from EFSA and FDA, it is claimed.
As such, brand owners are expected to reduce EPR fees by implementing the caps into their packaging.
"As tube manufacturers have continued to make progress toward true circularity, caps have always presented a significant sustainability hurdle," said Cornelia Schmid, head of Marketing at Neopac. "Rooted in research and materials science, our new rHDPE caps, which contain 70% PCR material, represent a substantial step in the right direction, and we look forward to adding to the series in the coming months."
Biotherm's new skincare collection received a new cap made from 100% recycled PP in a collaboration between L'Oréal and Texen earlier this year.
Waitrose also made the decision to permanently replace its blue, green, and red milk bottle caps with transparent HDPE in order to improve their recyclability, with Aldi and Co-op also making the transition in subsequent months.