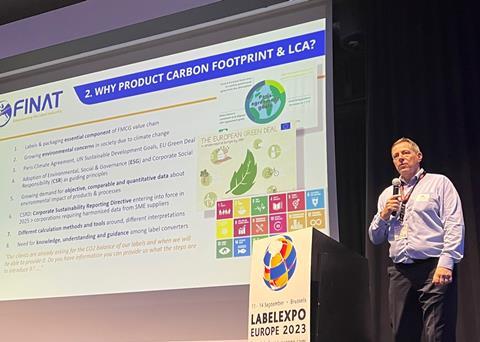 FINAT revealed its Product Carbon Footprint and Life Cycle Analysis initiative at Labelexpo 2023, hoping to establish objective criteria for customers to measure and generate data regarding the environmental impact of their products and processes.
Providing customers and stakeholders with the appropriate data to compare packaging, labels, and processes can be challenging, FINAT explains. For instance, companies only have direct access to their Scope 1 and 2 emissions and must consult other members of their value chains to obtain Scope 3 data.
This project hopes to guide the label industry through the process of calculating Product Carbon Footprint and Life Cycle Analysis data. At Labelexpo Europe, it launched a brochure and animated video explaining and distinguishing the two concepts – underlining the importance of uniting the value chain to generate the necessary data.
In the coming year, FINAT intends to conduct a survey of existing calculation methods used in the labels and packaging production chain, scheduled for release in the first quarter of 2024. A guidance document for harmonising the PCF/LCA approach across the label value chain – taking the form of a whitepaper and a presentation at the next FINAT Technical Seminar – will also be developed.
The initiative was developed as a contribution to FINAT's 'Four Pillar' programme, which aims to bolster its agility in community networking, knowledge, collaboration, and industry advocacy. It also comes under the umbrella of the organisation's new Workstream 'Collaboration', co-chaired by board members Uwe Düsterwald (BASF) and Alex Knott (Dow).
Knott comments: "In the course of the past year, FINAT has been approached by several label converters and national label associations to support them in addressing demands from label customers to provide data about the environmental impact of their labels and packaging.
"However, there is a lot of misunderstanding about the different methodologies and definitions, so as a first step we decided to prepare an illustrated document and animated video to explain the basics of Product Carbon Footprint (PCF, which focuses on the aggregated emissions during the process), and Life Cycle Analysis (LCA, which is much broader than just emissions).
"As a second step, during the next twelve months, a team of volunteers from FINAT and national label associations will focus on providing clarity about the different calculation methodologies at play in the labels and packaging chain. As a third and final step in this project, at our Technical Seminar next year we will present a whitepaper aiming to align the approaches along the value chain.
"In doing so, we will build on earlier work done several years ago when we released our first LCA Guidance Document."
UPM Raflatac recently received a certificate of validity from DEKRA for its Label Life LCA calculation engine. The verification is hoped to strengthen assurance in its process of generating life cycle assessments at scale.
Tosca also launched a new life cycle analysis tool to encourage companies to switch to its foldable Intermediate Bulk Container solutions and lower greenhouse gas emissions, fossil fuel consumption, and water usage.
In 2022, thirty-seven companies from the chemical industry, united by the Together for Sustainability initiative, expressed their support for a new Guideline for Product Carbon Footprint in a bid to lower emissions across the value chain.
If you liked this article, you might also enjoy:
McDonald's Director of Sustainability in Europe on the company's approach to packaging sustainability
McKinsey on whether or not on-pack sustainability claims affect consumer spending
Perspectives from industry-leading experts on the EU's Packaging and Packaging Waste Directive revisions
A deep dive into the most important packaging sustainability trends and solutions