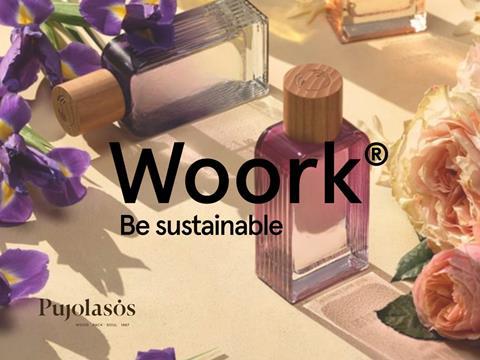 The Body Shop has collaborated with Pujolasos to create a recyclable, glue-free cap made from ash wood and encased cork for its Full Flowers perfume range.
Each Woork stopper comes with FSC Mix certification, and the natural variation between wood sources is thought to give each a unique and premium aesthetic. A high-precision laser is used to engrave the brand logo into the top of the cap.
It is also said to be completely recyclable due to its organic components – a feature expected to help The Body Shop deliver on its sustainability targets and the beauty industry at large pursue sustainability for its packaging.
The Body Shop aspires to achieve full recyclability throughout its bath and body and haircare products by 2025. It currently claims that over 68% of its packaging can technically be recycled, and that a comprehensive review has been conducted to find ways of increasing this figure.
Back in 2020, Pujolasos released Woodle, a glue-free wood cap with a disposable plastic inner designed to be recycled after use.
This was followed by The Body Shop working with MyGroup and Scan2Recycle the following year, developing a 'Return, Recycle and Repeat' scheme for 'hard-to-recycle' cosmetics packaging across 225 of its stores.
More recently, Quadpack's Idol Woodacity Solo Twist Compact – a compact case made of wood featuring a twist system designed for both left- and right-handed consumers – was unveiled as an expansion of the company's Woodacity range. It also features a dismantlable magnet to hold, and easily separate from, a refillable metallic godet.
If you liked this article, you might also enjoy:
McDonald's Director of Sustainability in Europe on the company's approach to packaging sustainability
McKinsey on whether or not on-pack sustainability claims affect consumer spending
Perspectives from industry-leading experts on the EU's Packaging and Packaging Waste Directive revisions
A deep dive into the most important packaging sustainability trends and solutions