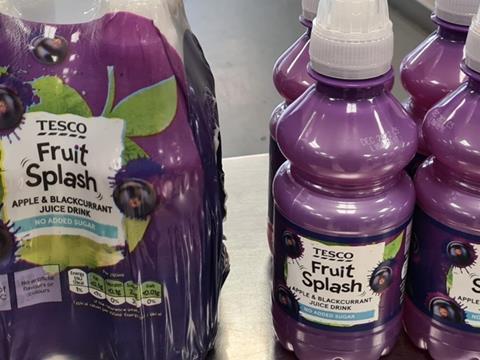 Tesco will remove the plastic wrap from multipacks of its own brand drinks in the coming months, allowing consumers to mix and match individual cans as part of a multi-buy promotion at the same cost as the previous wrapped version.
Tesco says it will remove the plastic wrap from multipacks of its own-brand drinks, which will be sold individually or as part of a multi-buy promotion at the same value as the previously wrapped multipack. The plastic-wrapped multipacks of four used to cost £1; the cans will now cost 50p individually or £1 for four.
Customers will apparently be able to mix and match purchases of drinks including lemonade, cola, beer, soda, and tonic water.
Tesco claims that 12 million pieces of plastic a year will be saved from use on all own-brand canned fizzy drinks, as part of the switch away from plastic wrap. A further 33 million pieces of plastic will reportedly be removed in the autumn as the retailer plans to eliminate the plastic wrap for multipacks of children's lunchbox drinks, energy drinks, water, and fruit juices.
Johnny Neville, head of packaging development at Tesco, comments: "Customers are focused on getting great value right now, but they still want to use less plastic.
"Not only is this move great news for the environment but it will also offer customers more choice and flexibility when it comes to fizzy drinks – at no extra cost. It could even work out much cheaper for customers who want a variety of drinks.
"Basically it's more choice, same value but less plastic."
In May 2021, Tesco stopped selling beers and ciders held together by soft plastic rings and shrink wrap, and now claims the move has helped it to save 50 million pieces of plastic a year. The retailer has also removed multipack wrap from its tins, including branded and own-brand beans, soup, and tuna.
As part of its 4Rs strategy – which includes the target to remove 5 billion single-use plastic products by 2025 – Tesco has also trialled reusable packaging in partnership with Loop, offering brands including Coca-Cola, Heinz, and Persil in durable packaging that can be returned, washed, and refilled. The Loop trial came to an end last week, with Tesco saying that it had been "positively received by customers who purchased more than 80,000 products over two years" and that it was now reflecting on feedback to explore future reuse opportunities.