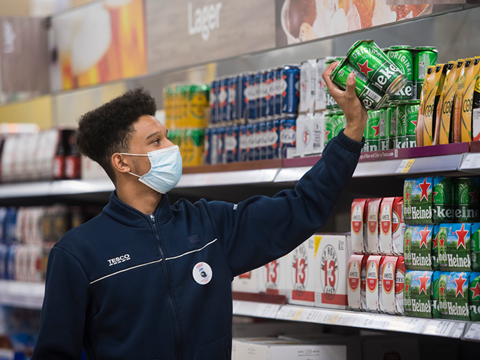 Starting from this month, British retailer Tesco will stop selling beers and ciders that are held together by soft plastic rings and shrink wrap.
The company says that it is the first major retailer to commit to such a move, which it projects will lead to 50 million fewer pieces of unrecycled plastic being produced each year.
It expects to sell through its remaining stock in the coming weeks and has pledged to not order beers or ciders that use this packaging in the future.
Tesco's quality director, Sarah Bradbury, said: "We are working hand in hand with some of the world's biggest brands to tackle the problem of unnecessary plastic.
"Our mission is to remove, reduce, reuse and recycle so we use as little material as possible and ensure that all the packaging in our stores can be easily recycled."
The move is part of the supermarket's ongoing 4Rs (Remove, Reduce, Reuse, Recycle) strategy set up with the goal of removing excess and non-recyclable material from its business and recycling the rest.
As a part of this work, Tesco says it has already hit its target of removing a billion pieces of plastic including tinned multipacks, lids, and the small bags used to pack loose fruit and veg.
Beer and cider brands that sell to Tesco will now use materials for multipacks such as cardboard sleeves, boxes, or a rigid plastic that can be recycled via kerbside collections.
Paula Chin, WWF's sustainable materials specialist, added: "Plastic pollution is one of the most visible symptoms of the environmental crisis and is devastating our natural world. We welcome this positive action from Tesco.
"If we are to achieve our shared goal to halve the environmental impact of the average shopping basket, we need collective action across retailers and brands to remove and reduce all problematic plastics."