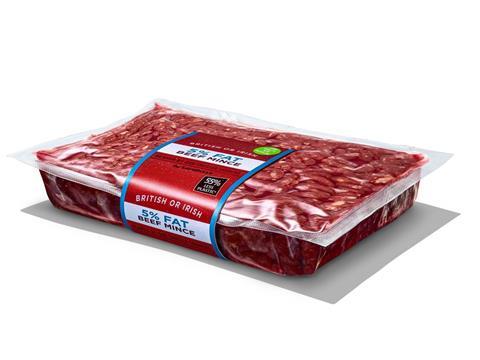 Sainsbury's has substituted the tray packaging of its beef mince range with vacuum packs in a move expected to reduce 55% of plastic per product and an overall 450 tonnes of plastic annually.
As it involves the complete removal of oxygen, the new packaging is expected to preserve the product's freshness for longer. Furthermore, while the amount of beef mince inside the pack will remain the same, the smaller packaging volume hopes to enable consumers to use their fridge and freezer space more efficiently when storing the product at home.
"We know our customers expect us to be reducing the use of plastic across our products are and we're constantly looking for new ways to innovate to meet our Plan for Better plastic reduction targets," says Claire Hughes, director of Product and Innovation at Sainsbury's. "We strive to be bold in the changes we are making, which is why we're pleased to be the first UK retailer to vacuum pack all our beef mince range without impacting the quantity or great quality of product that our customers expect.
"This is the latest in a long line of changes we have pioneered in the space working collaboratively with our suppliers, and customers can expect much more to come from Sainsbury's."
Now available both in-store and online, the vacuum-packed beef mince is anticipated to bring the retailer closer to its goal of halving the use of plastic packaging in its own-brand products by 2025. A previous contribution saw Sainsbury's repackage its own-brand coffee pod range in aluminium – a decision hoped to keep ten million pieces of plastic out of landfill every year.
Handl Tyrol has also switched its bacon packaging to Mondi's mono-material, high-barrier vacuum-pack solution in pursuit of optimal product freshness and a circular economy for plastics.
Earlier this year, Amcor released its PrimeSeal and Dairy-Seal Recycle-Ready Thermoforming Films with memory retention technology. These solutions are expected to lower the carbon footprints of standard PA and PE films by 80% and are set to be applied to meat, fish, and dairy products.