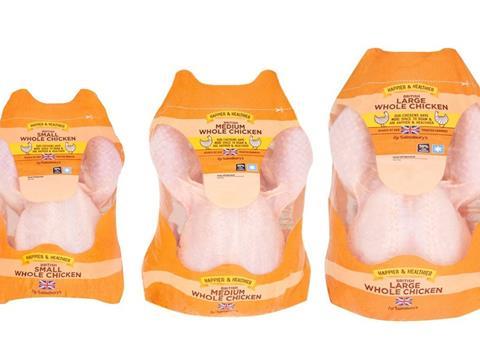 Sainsbury's has removed single-use plastic trays from its 'by Sainsbury's' whole chicken range in a move anticipated to utilise a minimum of 50% less plastic and save an annual 140 tonnes from going to waste.
Now available in all Sainsbury's stores across the UK and online, the repackaging affects whole chickens ranging in size from extra small to extra large and is expected to cut down on the amount of single-use plastic in home recycling streams. The remaining film can apparently be recycled at Sainsbury's front-of-store flexible plastics recycling points.
Ten million pieces of plastic are expected to be spared due to the trays' removal, contributing towards the retailer's goal of halving its use of own-brand plastic packaging by 2025. It is also said to coincide with improvements made to chicken welfare standards within the Sainsbury's supply chain, including lowering its stocking density to give its chickens 20% more space and implementing more enrichment bales, pecking objects, and platforms for perching to improve the livestock's quality of life.
In a previous redesign expected to cut down on 450 tonnes of plastic every year, Sainsbury's made the decision to vacuum pack its beef mince range and replace its previous tray packaging.
Similarly, Noel Alimentaria has collaborated with Mondi to provide a recyclable, paper-based tray for its sliced meat and plant-based food products in an effort to reduce its overall plastic consumption.
If you liked this article, you might also enjoy:
McDonald's Director of Sustainability in Europe on the company's approach to packaging sustainability
McKinsey on whether or not on-pack sustainability claims affect consumer spending
Perspectives from industry-leading experts on the EU's Packaging and Packaging Waste Directive revisions
A deep dive into the most important packaging sustainability trends and solutions