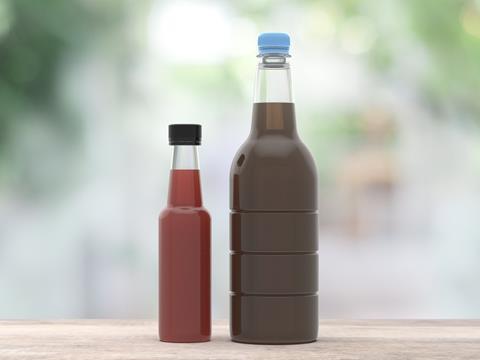 Berry M&H has launched a 250ml bottle for syrups, which can be produced with up to 100% food-grade recycled PET and meets increasing consumer demand for the creation of flavoured drinks at home.
According to Berry, the new bottles provide a convenient retail size for a wide variety of syrups, fruit mixes, sauces, frappes, liqueurs, and smoothies, as well as offering easy storage at home. This apparently enables customers to create a 'café at home' experience, with the opportunity to enjoy flavoured beverages whenever they want.
In addition, Berry says that the bottle offers a slim, elegant design with safe and comfortable handling. The company offers a choice of colours to customers, as well as a decoration area suitable for labelling and printing that enhances brand individualisation and on-shelf appeal.
The bottle can be manufactured in natural PET, with the option of being produced with up to 100% food-grade post-consumer recycled PET. Berry M&H can also supply an accompanying plastic ROPP 28-18 closure to offer a complete container and closure package.
Dean Williams, sales manager at Berry M&H Llantrisant, comments: "The new bottle is in response to retailer requests for a more compact size for the home syrups market.
"We believe its combination of an attractive appearance and excellent functionality provides the perfect solution."
The 250ml size joins an existing 1 litre version launched last year, which Berry M&H says is ideal for foodservice markets and enables manufacturers to create a family range for products.
In 2021, Berry M&H released a recyclable multilayer sauce bottle, Mira, manufactured from PP with safe and easy handling features, while earlier this year the company launched a standard complete pack and closure solution for cleaning products such as washing up liquid.