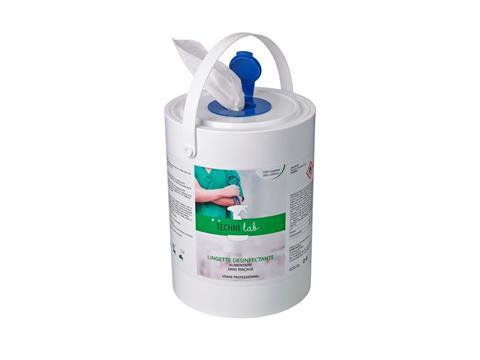 Berry Superfos has launched a mono-material polypropylene (PP) container for Hitam's wet wipes range that is both resealable to retain freshness and refillable.
Berry Superfos developed the 5.3-litre container, which is a special refinement of its Paintainer pail, for Hitman, a French chemical and analytical consultancy. The disinfectant wet wipes are the result of a collaboration between Hitman, which has apparently created a formula for producing efficient disinfectant liquid, and a wet wipe manufacturer.
Berry Superfos says that the wet wipe container is durable and reusable, with an easy refill option once the reel of 1,00 wipes is finished. Each Paintainer pail reportedly also provides space for more wipes than the former pack, meaning the ratio between the plastic packaging and the wipes has changed to allow for extra wipes while reducing the plastic content of the container.
Vincent Seita, CEO of Hitam, comments: "More and more people find clever packaging choices important, and so do we at Hitam.
"The wet wipes container is perfect for the circular economy as it is made solely of polypropylene: the lid, the fitted resealable cap and the container base. This means it is mono-material, making it ideal for recycling, and recyclability has our support
"We discovered that the wet wipes container from Berry Superfos is outstanding.
"When the cap in the lid is sealed, the wet wipes are actually in an airtight container. This prevents evaporation in a way which surpasses our expectations and means that the wet wipes stay moist, fresh and useful for longer than in the packaging we previously used."
The wet wipes are now being sold via distributors to restaurants, cafés, bakeries, hotels and similar outlets in France and other European countries.
Other PP solutions from Berry Superfos include its mono-material vending machine cups for both hot and cold beverages, and its solution incorporating 25% rPP into the Spanish food producer Choví Group's garlic mayonnaise brand pot.