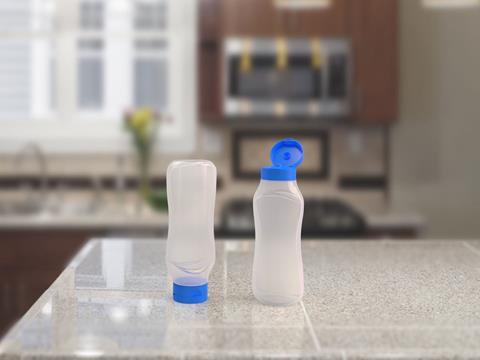 Berry M&H unveils Mira, its new bottle for table sauces and condiments, which it says meets demand from consumers for packaging that is both convenient and sustainable.
The company says its Mira 457ml bottle is manufactured with PP and can apparently be recycled after use.
According to Berry, the bottle also incorporates an EVOH barrier layer that delivers protection for oxygen sensitive productions, reportedly providing a longer ambient shelf life and helping to reduce food waste.
It adds that the bottle can handle both cold and hot filling (up to 95oC), while its wide neck makes it easy to fill on existing filling lines.
In addition, the Mira bottle is available with a variety of closures, with and without valve dispensing, which are produced by Berry M&H. The company says the availability of various closures works with the characteristics of different products for accurate and controlled dispensing.
The curved design of the bottle, which includes fine line details around the neck, apparently provides an "attractive and appealing appearance" on shelves. The company says the Mira can be specified in a range of colours to create individual brand identity.
According to Berry M&H, the bottle is lightweight, with a tip-down format, which apparently provides safe and easy handling for consumers.
The Mira bottle is also reportedly compliant with modern food legislation.
According to Caroline Smith, area sales manager at Berry M&H: "The Mira bottle is another important addition to our range, extending the wide choice of designs and sizes we have available and enabling us to tailor solutions to the precise needs of individual customers."
This is part of Berry M&H's ongoing innovations in the packaging of food and beverages, with a focus on sustainability. Earlier this year, Berry M&H developed a light-weight postal 50ml PET spirit bottle, which can be manufactured with different levels of PCR content.