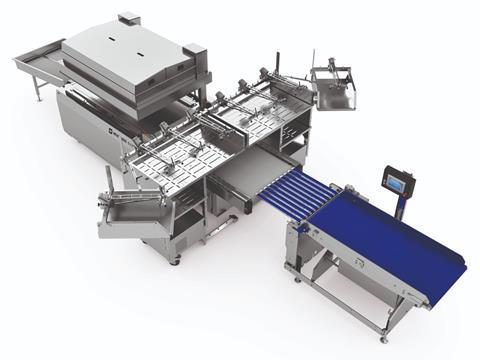 MULTIVAC has launched a new Pouch Loader (MPL) for chamber belt machines, which is said to improve the efficiency, hygiene, ergonomics, and overall performance of the filling and loading process for film pouches.
The machine aims to meet the needs of a range of customers and prevent the manual filling of the film pouches and the loading of the machine from becoming a bottleneck in the process. Said to increase efficiency in comparison to manual loading, the MPL apparently offers flexibility regarding its products and pack formats – accommodating pouch lengths between 200mm and 800mm and widths from 150mm to 600mm.
It is also thought to allow for a reduction of up to 40% in personnel costs without impacting cycle output. One operator is required to position the products on the machine's infeed conveyor, with two loading the products by pulling the film pouches over the loading conveyor. From here, the product is automatically conveyed into the film pouch, at which point the packaging can be rotated 90 degrees, placed on the machine conveyor, and vacuum-packed and sealed.
As an operator is no longer required to fill the product by hand, the MPL is expected to improve the hygiene of the packing process by reducing human contact with the product. It can also be configured individually or integrated into MULTIVAC line solutions with the B 425, B 525, and B 625 chamber belt machines due to its compact design.
"We can for the first time offer our customers a complete solution from one source for pouch applications on chamber belt machines, enabling us to remain true to our PEAQ promise," says Korbinian Wiest, product manager for Chamber Belt Machines at MULTIVAC. "The MULTIVAC Pouch Loader stands for a simple and effortless packaging process with a high degree of efficiency, reliability, operating convenience and cost-effectiveness."
The MPL can also be combined with Multivac's Pouch Rack (MPR), a compact pouch rack that can apparently hold up to ten different stacks of various pouch sizes. Its pouch opening aids reportedly allow individual film pouches to be separated from the stack and removed from the rack.
Early last year, Shawpak revealed its 4-Side Seal Pouch Machine, said to package up to 4000 flat medical products per hour.
interpack 2023 also displayed various automated solutions, from an improved structure for ELBA S.p.A.'s SA-V pouch-making machine to four new VFFS machines from Syntegon – and MULTIVAC's own complete processing and packaging lines for the food industry.
If you liked this article, you might also enjoy:
McDonald's Director of Sustainability in Europe on the company's approach to packaging sustainability
McKinsey on whether or not on-pack sustainability claims affect consumer spending
Perspectives from industry-leading experts on the EU's Packaging and Packaging Waste Directive revisions
A deep dive into the most important packaging sustainability trends and solutions