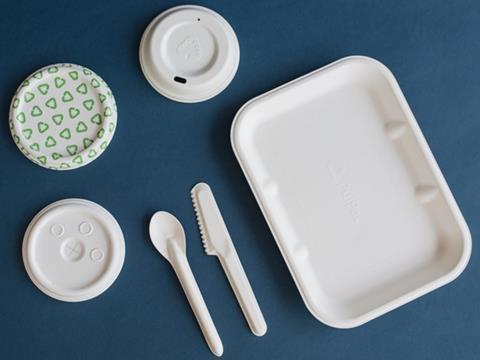 SustainaPac LLC has joined PulPac's licensee network and now hopes to utilise the latter's Dry Molded Fiber technology and produce single-use food service packaging products for the North American quick service restaurant (QSR) market.
SustainaPac aims to build a series of Dry Molded Fiber production facilities throughout the USA to produce single-use fibre trays, bowls, hinged containers, and similar products. A dedicated high-volume fibre hot and cold drink cup lid plant is set to open in Jacksonville, Florida.
It is hoped that PulPac's Dry Molded Fiber technology will enable the replacement of single-use plastics with a more sustainable, fibre-based alternative at a commercial scale and at a competitive cost.
"North American QSRs are clamouring for economical, domestically produced, compostable fibre products to replace their single-use plastic packaging where appropriate, and SustainaPac with PulPac fiber forming technology will be out front meeting that demand," said Les Schaevitz, CEO of SustainaPac.
Sanna Fager, chief commercial officer at PulPac, added: "Time is increasingly becoming the most important factor in dealing with environmental challenges. Now is the time for action.
"Together with converters like SustainaPac stepping up to the plate, we can accelerate the shift towards sustainable fibre-based packaging and away from single-use plastics. Next generations deserve new generations of packaging where sustainability is just a given."
A €31 million private placement led by Aliaxis and followed by Stora Enso, Amcor Ventures, Teseo Capital, and various existing shareholders was set to facilitate the global rollout of PulPac Dry Molded Fiber technology.
PA Consulting and PulPac also formed the Blister Pack Collective, calling upon organisations in the pharma, consumer health, and FMCG industries to provide a recyclable alternative to PVC blister packs using Dry Molded Fiber technology.
Additionally, PulPac's fibre-moulding technology previously reached the finals of the Sustainability Awards 2021.