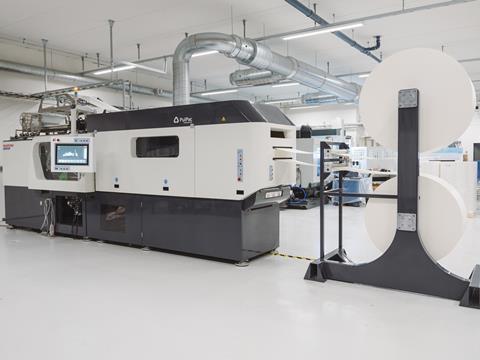 PulPac is launching the PulPac Scala, a new machine platform combining its Mill-to-Web fibre unit with injection moulding technology, in the hopes of increasing the accessibility of Dry Molded Fiber worldwide.
Approximately 100,000 injection moulding machines are produced every year, PulPac says, and many of them only produce single-use plastic. The PulPac Scala seeks to rectify this – bringing Dry Molded Fiber to customers and requiring a lower investment than the PulPac Modula while fitting into a 40-foot container.
Alongside its turnkey partner Huarong Group, PulPac is now releasing the compact, reportedly scalable Dry Molded Fiber machine platform. The fibre-forming technology claims to offer efficiency in resources, energy, and cost and hopes to overtake single-use plastic consumption globally.
"When we launched Dry Molded Fiber a few years ago, we did it with a great machine platform," explains Sanna Fager, chief commercial officer at PulPac. "The PulPac Modula is still the best fit for producers with high volumes and a need for modularity. But one size doesn't fit all, and we saw an opportunity to make Dry Molded Fiber approachable to even more packaging producers.
"Its name is, of course, a play on words. Due to its low investment threshold, any producer who wants to gain market leverage in this new, exciting, and fast-growing market can start small and then scale up."
Viktor Börjesson, PulPac's chief partnerships officer, continues: "As the inventors of Dry Molded Fiber, our knowledge about the technology is unrivaled. Huarong brings 40 years of experience in building machines for the plastic industry.
"We merged our cutting-edge tech to Huarong's existing and functioning clamping unit, and the result is a compact, hassle-free, plug-and-play machine for Dry Molded Fiber manufacturing."
Earlier this year, Curt G. Joa, Inc. (JOA) worked with PulPac to bring the PulPac Modula production platform for Dry Molded Fiber to the North American market – aiming to meet growing demand for sustainable packaging solutions.
SustainaPac LLC also joined PulPac's licensee network and sought to use Dry Molded Fiber technology to produce single-use food service packaging products for the North American quick service restaurant market.
If you liked this article, you might also enjoy:
The L'Oréal approach to packaging sustainability
What steps is Apple taking to make its packaging more sustainable?
How did Brazil achieve its 100% aluminium can recycling rate – and can it be replicated in the EU?
Experts have their say on the EU's Packaging and Packaging Waste Directive revisions