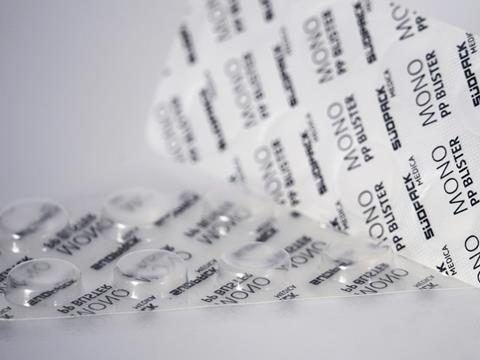 SÜDPACK has unveiled a new recyclable, mono-polypropylene blister packaging solution for the pharmaceutical, medical goods, and life science industries.
PharmaGuard is thought to maintain high yields while saving resources due to the low density and high material efficiency of polypropylene. According to SÜDPACK, it can be implemented into existing packaging lines with only minor modifications to enable the safe and optimal processing of mono-material solutions.
The top and bottom webs are manufactured via a coextrusion process and claim to be perfectly coordinated in their functions, especially where sealing is concerned. This reportedly ensures an efficient and high-quality packaging process.
In particular, the bottom web produces a large processing window with uniform demolding behaviour and 'excellent' thermoforming performance. SÜDPACK also reports that the blister film offers high transparency for a clear view of the product contained within the packaging, and that the material structures are compatible with different barriers for product protection.
A life cycle assessment has also been conducted by Sphera, with the results suggesting that PharmaGuard reduces CO2 equivalent and lowers water and energy consumption in comparison with other commonly-utilised blister solutions.
"At the moment, the legal situation in the pharmaceutical industry does not require compliance with recycling rates," said Michael Hermann, Head of Research & Development at SÜDPACK Medica. "Those who switch to recyclable packaging concepts now, however, are making an investment in their image, which will give them a competitive edge in the market.
"As a base material, PP naturally offers an outstanding water vapor barrier. Our coextrusion process makes it possible to also equip the material with barriers against oxygen and UV rays.
"As a one-stop supplier, our goal is to always offer customers the best possible alternative, one that is tailored to their unique requirements and from a single source – and to implement an optimal solution with a fast time-to-market."
Aptar Pharma's metal-free, designed-for-recycling APF Futurity multidose nasal spray pump, made of polyolefin and designed for nasal saline and other over-the-counter pharma products, was launched in February.
Volpak has unveiled the Enflex PHS Series for flexible packaging, especially in the stick-pack format, for use in the pharmaceutical and healthcare industries; and the ALPLA Group and HANA Innovation have entered a joint venture to produce polyethylene pumps for soap, lotion, and shampoo dispensers.
If you liked this article, you might also enjoy:
McDonald's Director of Sustainability in Europe on the company's approach to packaging sustainability
McKinsey on whether or not on-pack sustainability claims affect consumer spending
Perspectives from industry-leading experts on the EU's Packaging and Packaging Waste Directive revisions
A deep dive into the most important packaging sustainability trends and solutions