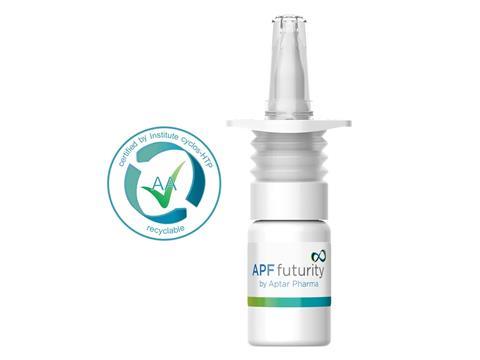 Aptar Pharma is launching APF Futurity, its first metal-free, designed-for-recycling multidose nasal spray pump for nasal saline and other over-the-counter pharma products.
Having achieved a Class AA certification for European recycling streams from cyclos-HTP, APF Futurity is made of polyolefin; it is designed to be free of parts made of metal or other materials that would disrupt a plastic recycling stream, negating the need for separation and reportedly improving the quality of recyclate produced.
According to the company, the spray pump can be used in combination with and recycled alongside a polypropylene or HDPE container bottle, leading to a more convenient user experience.
Patent protection has reportedly been filed for the spray pump, which claims to deliver precise and consistent dosing with soft actuation. The Futurity platform as a whole aims to meet increasing demand for access to recyclable products, with 77% of respondents to a 2022 study by Aptar Pharma describing recyclability as an 'important' or 'very important' factor in the products they buy.
Gael Touya, president of Aptar Pharma, commented: "As a leading provider of nasal spray pumps globally, the launch of APF Futurity is a significant step forward in our sustainability journey, underlining Aptar's overall commitment to a more circular economy and meeting the global need for sustainable packaging solutions that are easy to recycle."
"APF Futurity is a game-changing innovation for the nasal spray pump industry and I am proud of our design and engineering team for meeting the challenge of designing this metal-free nasal pump," continued Stefan Ritsche, president of Global Market Development, Consumer Health Care, Aptar Pharma. "This is an important step in the transformation of our nasal spray portfolio to more sustainable solutions, and we look forward to bringing additional innovations of this kind to meet the need in the pharmaceutical industry."
Aptar Pharma's launch of APF Futurity is yet another sustainable product innovation that reinforces our pledge to care for our planet and reduce our environmental impact," concluded product sustainability director Christophe Marie.
Another recent development saw Aptar Pharma implement TFF Pharmaceuticals' Thin Film Freezing technology platform into its own Unidose Powder Nasal Spray System to develop and test the administration of dry powder vaccines.
Meanwhile, M&S previously implemented 'fully recyclable' spray triggers and pumps into its cleaning spray and washing-up liquid bottles during a collaboration with Re to trial refillable packaging for its own-brand cleaning and laundry products.