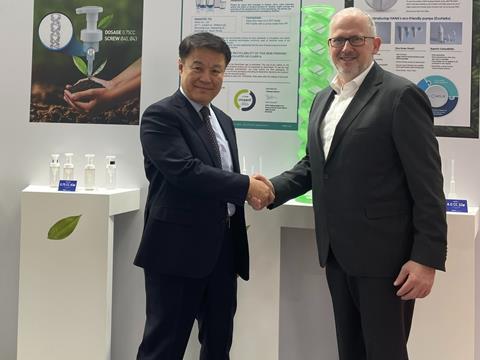 The ALPLA Group is entering a joint venture with HANA Innovation to produce recyclable, mono-material plastic pumps for soap, lotion, and shampoo dispensers.
South Korean company HANA Innovation previously developed its patented polypropylene ECO Pump that aspires for maximum recyclability; it can reportedly be manufactured from post-consumer recycled material and is designed with easy handling in mind. The pumps are set to become customisable in the future.
ALPLA began its production of standard pumps for soap and shampoo dispensers in Hyderabad, India, in 2020. By partnering with HANA Innovation, it hopes to continue its strategic growth in the injection moulding (IM) sector. The companies have also stated that their shared goal is to distribute pumps with patented plastic spring technology worldwide and offer complete systems, including the bottle.
"The potential for high-quality, recyclable pumps is enormous," says Michael Feltes, global business development director IM at ALPLA. "As a system provider, we can offer the matching bottles at the same time. With this new partnership, we are combining our strengths as a globally operating company with the technological edge of HANA Innovation."
Sung Il Kang, Chairman of HANA Innovation, added: "The cooperation opens up opportunities for further global commercialisation of our products and accelerates the development of sustainable, future-proof solutions."
Earlier this year, P&G unveiled its own pump dispenser made entirely from plastic – apparently containing its own plastic spring, and therefore negating the need for the pump to be dissembled before it is recycled.
After Aptar's recyclable, mono-material Future pump reached the finals of the Sustainability Awards 2022, Aptar Pharma revealed its metal-free, designed-for-recycling APF Futurity multidose nasal spray pump for over-the-counter pharma products.