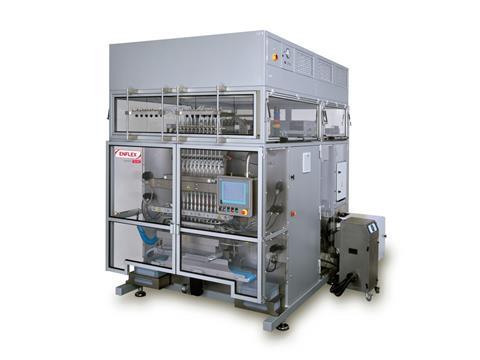 Volpak is launching the Enflex PHS Series, which produces flexible packaging - especially in the stick-pack format - for the pharmaceutical and healthcare industries.
In the pharmaceutical sector, the flexible packaging industry is said to be worth almost $16 billion with a projected CAGR of 65% by 2028 and an expected growth rate of 4.37%. As such, customers within the pharma industry are reportedly seeking packaging solutions that ensure the protection and safety of pharmaceutical products, especially single-use and single-dose drugs.
In response, Volpak asserts that flexible packaging is easy to open and useful for storing specific doses, as well as minimising wasted product, cutting down on packaging weight, and enabling efficient and low-cost distribution. It highlights the stick-pack solution in particular, which it maintains can protect liquid health products from moisture, oxygen, and light while remaining compact, user-friendly, and practical.
The Enflex PHS Series is available in multiple-lane setups and is designed for specific configuration to meet customer needs. It apparently features a small footprint to enable customers with less production space to integrate its technology into their production processes.
Under specific performance configurations, the series is reported to produce 1,800 stick-packs per minute. Furthermore, it claims to reduce material wrapping usage by 42% in comparison with other units on the market and provide customers with a means of saving on energy costs with its servomotor-based energy recovery system.
Format change operations are also quick and easy to complete, according to Volpak, requiring no special tools – a feature thought to benefit third-party suppliers, contractors, and pharmaceutical companies alike. The series' OEE (Overall Equipment Efficiency) index is placed at over 95%, which makes it compatible with modern lean production needs and consistent with the Industry 4.0 framework, the company states.
Additionally, the series is equipped with OptiMate, the Coesia Digital HMI; this control panel claims to facilitate ease of use while maintaining advanced control functions for format change, machine maintenance, and other applications. The smart interface allows customers to navigate different menus and is said to simplify such processes as ordering spare parts, accessing technical documentation, and generating production reports.
This time last year, Shawpak introduced its 4-Side Seal Pouch Machine set to package flat medical products.
Meanwhile, Romaco Noack's Unity 600 blister packaging line claims to have a maximum output of 600 blisters and 350 cartons per minute and seeks to optimise efficiency and lower emissions in the production of packs for the pharmaceutical and nutraceutical sectors.