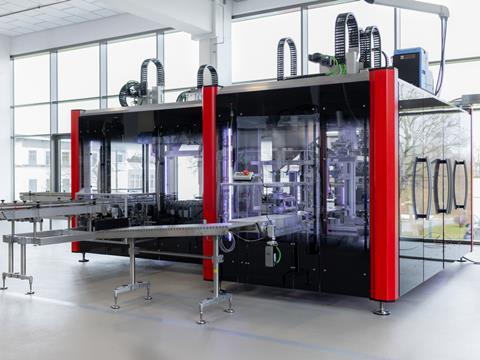 SOMIC is displaying its SOMIC 434 machine series for tray packaging, tray lid, or wraparound solutions, and the SOMIC CORAS collection and grouping system, at interpack 2023 - each offering new design features anticipated to benefit operators and operations alike.
SOMIC 434 claims to handle up to 34 cartons per minute in a standard cycle or 60 cartons per minute in a double cycle, depending on the product or carton's size, characteristics, and design. Appropriate grouping is thought to make higher outputs possible.
The 434 series builds upon the previous SOMIC 424 generation of machines for single- and multi-part cardboard packaging in a wraparound concept or packaging solutions featuring a tray and lid. It presents a slim and linear footprint with a collection and grouping unit docked onto the side of the machine in a separate frame concept.
The functional groups for the carton infeed, carton forming unit, product loading unit, and closing unit are integrated in a linear fashion and implemented in a standardised design within the stainless steel machine frame. As such, the supply chain infrastructure within the machine is said to be completely streamlined.
Furthermore, the frame's support structure is now on the inside to hold all the functional groups – a development expected to give operators optimal access to the cartoning stations. To access the machine and work from inside it, they can open the frame-high guard doors at a 180-degree angle, which are, in turn, designed to improve the use of space around the machine.
LED lights have been integrated into the corner columns of the machine to indicate a machine's status from afar, replacing the standard signal light on the machine frame.
Servomotors have been implemented for the automated format adjustment of folding tools, gluing positions, and the blank magazine, negating the need for a ruler or similar position aids in manual conversions. SOMIC's QuickChange System is said to facilitate the changing of the remaining format parts, which can be controlled by an operator panel; SOMIC technicians estimate that time savings of up to 70% are achieved during format change using this system.
The filling system for the gluing unit has also been integrated into the service cabinet in a design set to enable the convenient refilling of glue granulate from outside the machinery.
Meanwhile, SOMIC CORAS intends to offer an alternative to collection systems that feature a lamella chain. Using planar technology, its drive and positioning system expects to provide a quick and compact solution for the unrestricted assembly of product groupings.
At interpack, tubular pouches and nuts are being used to demonstrate the technology. It is processing products from four lines, combining them into a single defined sequence, and arranging them in different alignments in the carton. Reportedly, this loads or unloads sixty products per minute onto the floating carriers of the four different lines, a process enabled by the carries' arbitrary programmability and the possibility for the vertical axis to rotate at 360 degrees.
"The feedback has been exceptional," says Ralf Jäckel, director of sales for Europe. "Our customers responded very positively to the fact that we have bundled their suggestions from previous conversations, such as optimised integration into line arrangements or a stainless steel frame design with high accessibility, into this new machine."
Managing director Patrick Bonetsmüller adds: "With this new development, we have demonstrated how our technical teams adequately capture and implement the market requirements. The results are absolutely convincing. We were able to realise this new machine concept in a mere two years. That is an outstanding team effort."
Also available to view at interpack are Shemesh Automation's A-Z turnkey packaging line solutions, including an uninterrupted bottling line; ROTZINGER Group's new feed placer, filling and capping machine, bar production line, and upgraded blister machine; and Baumüller's intelligent drive and automation solutions, such as energy monitoring and machine simulation software and water-cooled servo motors.
If you liked this article, you might also enjoy:
McDonald's Director of Sustainability in Europe on the company's approach to packaging sustainability
McKinsey on whether or not on-pack sustainability claims affect consumer spending
Perspectives from industry-leading experts on the EU's Packaging and Packaging Waste Directive revisions
A deep dive into the most important packaging sustainability trends and solutions