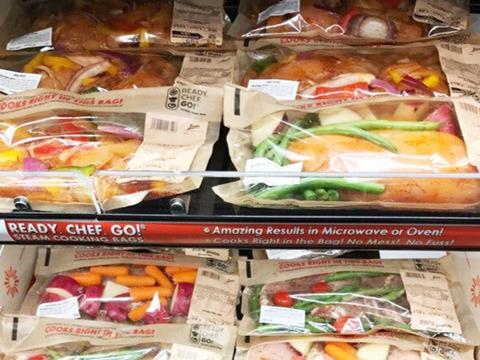 Sirane has released a range of ovenable films and pouches printed with water-based inks in a reported first for the packaging industry.
Said to be compliant with EU and FDA packaging regulations, the materials have been printed and laminated with water-based inks and adhesives, and have reportedly been tested by Smithers for ovenable food safety performance at up to 220°C (430°F).
The packaging is decorated using Sirane's Amethyst print technology, which results in high print definition, enhanced image clarity, and greater densities with no plate costs, according to the company. It also utilises a water-based ink system – thought to reduce the volatile organic compounds (VOCs) emitted during production.
Furthermore, the water-based adhesives are apparently free of substances that can cause the release of aromatic amines in solvent-based alternatives, reducing exposure to carcinogens.
The materials are available in the form of reels, flat bags, and flat or stand-up pouches.
"Consumer demand for ovenable convenience is growing rapidly and it is essential food cooked in plastic packaging, a very popular way of cooking, is safe," said Peter Ralten, commercial and business development director at Sirane. "It is great that we have been able the reduce the environmental impact of these products.
"We believe this is a world first as a laminate, printed with water-based inks and using water-based adhesives, which has been approved for oven use."
The development comes in light of various similar yet separate innovations released in previous years, from Siegwerk's UniNATURE water-based inks for paper and board applications – later a finalist and winner of the Sustainability Awards 2022 – to Graphic Packaging International's dual-ovenable addition to its PaperSeal tray range and Walki's PET-free, renewable fibre ovenable tray.
On the other hand, DS Smith identified oven-friendly cardboard food trays as an example of a material that can disrupt paper recycling streams due to lamination in the packaging design and/or food contamination.