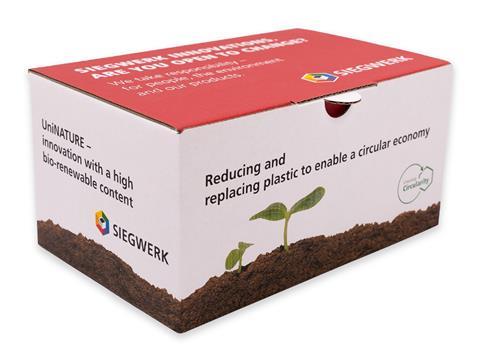 Siegwerk, a global provider of printing inks and coatings for packaging and labels, is now offering a new generation of water-based inks for paper and board applications: UniNATURE.
The new product range is reportedly formulated with renewable and natural components. Siegwerk claims that the solutions can provide an "environmentally friendly" alternative to conventional inks, without impacting the recyclability of paper and board packaging.
"UniNATURE is our third generation of sustainable water-based inks and coatings for paper and board applications meeting the requirements of brand owners and packaging converters," says Hanns Martin Kaiser, vice president for the paper and board business units and liquid food packaging at Siegwerk.
The company says that its new water-based ink and coating solutions are formulated with a high Bio Renewable Content (BRC), measured according to the ASTM 6866 method. Products in the UniNATURE range incorporate up to 50% renewable carbon content – apparently eight to nine times more than standard water-based inks.
Meanwhile, Siegwerk also says that its new range comes along with "excellent" ink performance and colour strengths offering similar levels of resistance as current water-based technologies.
User tests have apparently shown improved dot shape, comparable dot gain, high resolubility, and easy cleaning on the press, which, according to the company, means that it can be easily exchanged with current products without the need to change equipment, processes or colour matches.
With the Finnish paper and paperboard manufacturer Kotkamills, Siegwerk says that it has already been able to prove the high performance of UniNATURE utilized on a fully recyclable paper cup made of Kotkamills' ISLA Duo barrier board.
Designed for use with Siegwerk's Unibase and Uni T coloured bases, UniNATURE inks can be supplied as ready to use inks directly from Siegwerk. However, UniNATURE extenders and Unibase or Uni T colourbases are more frequently supplied to customers to be mixed on demand at dispense equipment directly at the customer's premises.