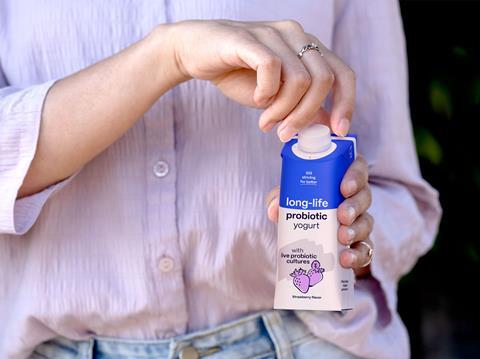 SIG and AnaBio Technologies have announced the global launch of an aseptic pack for long-life probiotic yoghurt – claiming to have created a new product category for aseptic carton packs and shelf-stable spouted pouches for long-term, non-refrigerated storage.
Incorporating probiotics into aseptic beverage packaging was not thought to be possible prior to this development, because they cannot survive common heat treatments used in processing. They can also be unstable to store, which previously limited them to short shelf lives in fridges.
Now AnaBio's encapsulation technology has been combined with SIG's gentle aseptic filling technology to contain live probiotic drinks in carton packs and spouted pouches. These can apparently be stored at room temperature for extended periods of time.
SIG has also applied specific filling and processing parameters with the aim of ensuring a homogenous suspension of probiotic cells between packs – an adjustment said to ensure the high-quality and safe filling of probiotics.
It is hoped that the development will enable customers to deliver improved gut health, strengthened immunity, and other health benefits through their beverages while selling them in convenient and sustainability-minded packaging. In turn, it is set to create new product segments for nutritious products in emerging markets, which will no longer be restricted to the fresh aisle.
"Our innovative patented 'encapsulation' technology coats probiotic cells, such as Lactobacillus strains, with a protective layer," explains Sinéad Bleiel, Founder of AnaBio Technologies. "This allows the strains to withstand high temperatures during processing.
"When the probiotic product is consumed, the coating is naturally broken down by digestive enzymes releasing the probiotic to colonize the small intestine and deliver their health benefits.
"Together with the expert team at SIG, we're not only able to offer consumers probiotic products with unique health benefits, but also a longer product shelf life for greater convenience. It's a real step-change innovation in the field of probiotic beverage products."
Christoph Wegener, Chief Markets officer at SIG, adds: "With the creation of a new product category, both SIG and AnaBio are providing beverage and food manufacturers with a pioneering solution to overcome the current limitations of fresh probiotic beverages. Our innovation offers lower distribution costs as no refrigeration is required, longer shelf life, increased reach and less food wastage for both retailers and consumers.
"Aseptic probiotic yogurt drinks demonstrate our continuous drive to innovate to rapidly meet changing consumer needs, while offering high product quality and longer shelf life in sustainable packaging. Our aseptic carton packs are proven to be one of the most sustainable packaging solutions in the market."
Earlier this year, SIG made a €60 million investment into the construction of its first aseptic carton plant in India – anticipating a yearly production capacity of 4 billion packs – and has recently opened another facility in Mexico, which is expected to produce 500 million carton packs in its first year.
Dow and Mengniu have also joined forces to roll out a designed-for-recycling, mono-PE pouch for yoghurt products; the new pack aspires to contribute towards the establishment of a circular economy in China.
If you liked this article, you might also enjoy:
The Lidl approach to packaging sustainability
How did Brazil achieve its 100% aluminium can recycling rate – and can it be replicated in the EU?
Experts have their say on the EU's Packaging and Packaging Waste Directive revisions
A deep dive into the most important packaging sustainability trends and solutions