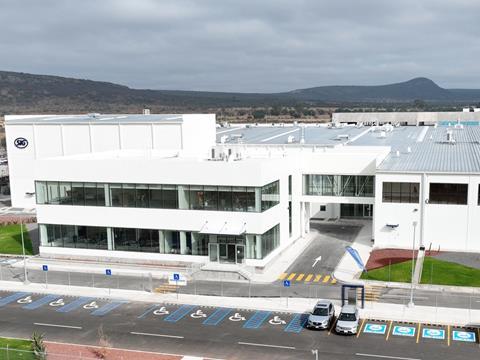 A new production plant for SIG's aseptic carton packaging in Queretaro, Mexico is entering operations in a bid to capitalise on the company's growth potential in North America and produce 500 million carton packs in its first year.
With an area of 20,751.21 square metres, the new plant reportedly places emphasis on the printing, cutting, and finishing of carton packs. Its initial focus will lay in the production of mid-sized and large carton packs, with small formats reserved for its second phase; it also aims for the production of 1.2 billion sleeves in 2024.
Over 200 jobs have reportedly been created at the plant, which is said to have a flexible layout and maintain a focus on ergonomics and the environment. As the result of a total investment of €73 million, it now hopes to contribute towards further growth for SIG in the North American region.
"Through our existing sales and service presence in North America, we have built strong relationships with our customers in Mexico and established a strong co-manufacturing network in the US," said Eduardo Gatica, director of Cluster North America at SIG. "Our new packaging plant will enable us to keep up with the growing demand for aseptic carton packs and serve our North American customers faster and more efficiently. We will be able to respond rapidly to changes in demand and reduce our delivery lead times.
"We're excited to start manufacturing operations in Mexico, working closely with our customers to innovate and explore new opportunities."
Ricardo Rodriguez, president and general manager Americas at SIG, added: "The Americas region has experienced strong growth performance over the years. Our new plant coming to life is further proof of our commitment to meeting and exceeding our customers' current and future needs, ensuring flexible supply with outstanding quality, environmental, and service standards. It will bring us a step forward in the region, reaffirming our strong reputation as a solution provider who can turn challenges into new opportunities."
SIG is also making a €60 million investment in the construction of an aseptic carton plant in India, which expects to reach a yearly production capacity of 4 billion packs.
A PET recycling plant has been opened in Romania by ALPLA Group and its joint venture partners with the goal of supplying food-grade rPET for the southeast European market; its rPET granulate production line entered operation in March.
If you liked this article, you might also enjoy:
McDonald's Director of Sustainability in Europe on the company's approach to packaging sustainability
McKinsey on whether or not on-pack sustainability claims affect consumer spending
Perspectives from industry-leading experts on the EU's Packaging and Packaging Waste Directive revisions
A deep dive into the most important packaging sustainability trends and solutions