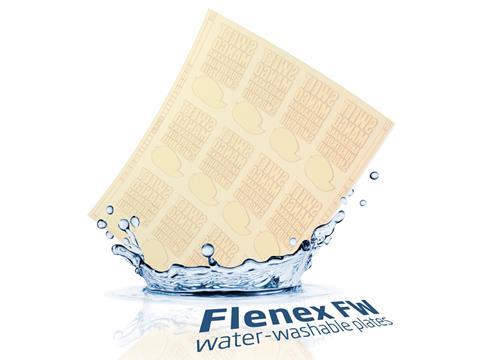 Fujifilm is set to display its portfolio of analogue and digital packaging solutions – including water-washable flexo plates, narrow web inks, and multiple jet presses – at interpack 2023 in a bid to demonstrate its commitment to sustainability and support the production of printed packaging.
All of the solutions fall under the theme of 'Analogue. Digital. Sustainable.' The first product in the lineup is Fujifilm's Flenex FW water-washable flexo plates, which are designed to cut out the pollutive solvents frequently utilised in the plate-making process. The plates are said to be more durable than most alternatives, thus reducing both plate changes and waste. Furthermore, it apparently delivers greater press stability and consistent, high-quality printing, as well as minimising water use when combined with the PRC1 filtration unit.
Secondly, Fujifilm's narrow web inks, thought to provide customers with both versatility and quality, and its retrofittable LED UV curing system will be showcased on the stand. The latter combines LED UV curing hardware with a new range of LED UV inks, which is set to reduce energy consumption, eliminate harmful VOCs, require less maintenance, and produce less waste. In turn, these features are expected to reduce costs and ensure high quality.
The inks also solvent-free, says Fujifilm, and are manufactured at Fujifilm's Broadstairs factory, where the company claims to strive for environmentally responsible manufacturing and operating processes.
In terms of digital solutions, the Jet Press 750S High Speed Model will be running and producing folding carton packaging in conjunction with a Kama finishing unit. This model is designed to print short-run, folding-carton packaging to a high standard.
Its scalable imprinting systems, meanwhile, are hoped to imbue analogue processes with the benefits of digital printing by implementing Fujifilm's proprietary technologies across printheads, inks, and transport systems, as well as the company's knowledge of integration. These solutions are based on Fujifilm's piezo-electric printbars and can be implemented directly into existing analogue production lines without the need to invest in a new line, according to Fujifilm.
The Jet Press FP790 is designed as a digital alternative to flexo production for mainstream applications and print runs, anticipated to meet businesses' strategic needs as well as taking on the proliferation of SKUs, a widening variety of products, and shorter delivery times. Alongside the Jet Press 75S0S, the FP790 reportedly contributes to a more circular economy and eliminates several processes and consumables from the traditional analogue production process.
"We are delighted to be exhibiting at interpack 2023, the flagship show for the global packaging industry," says Manuel Schrutt, Head of Packaging, EMEA. "It's great to see the show finally back up and running, after a long 6 years. We are looking forward to connecting with our existing and potential customers.
"We work with packaging producers at all stages of their journey, whether it's helping them to optimise analogue production lines to maximise efficiency or to introduce a digital capability. We don't do one-size-fits-all – we do the right solution, for the right producer, at the right time. And all our solutions, whether analogue, digital, or somewhere in-between, are designed to reduce waste and the use of environmentally harmful chemicals, minimise energy consumption, and to be as sustainable as possible."
In the aforementioned Jet Press FP790, which was announced earlier this month, Fujifilm Graphic Communications utilised a Smart Digital Front End and unified workflow solution developed by HYBRID Software for optimised productivity and output.
Additionally, XSYS has announced its nyoflex FTV Digital hard durometer photopolymer plate for the flexographic printing of flexible packaging with solvent inks, which is designed to enhance overall equipment efficiency in plate production and provide high-quality print.