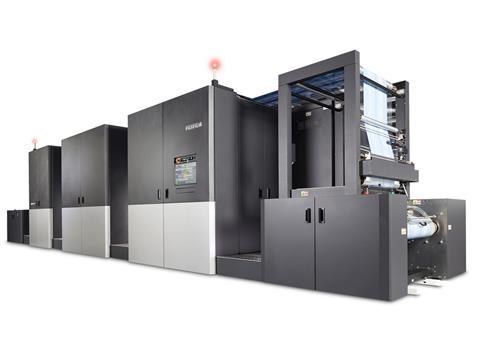 Fujifilm Graphic Communications is launching its Jet Press FP790 digital inkjet flexible packaging solution featuring a Smart Digital Front End (DFE) and unified workflow solution developed by HYBRID Software for optimised productivity and output.
Said to be the first solution of its kind developed by a software company for the packaging market, the new Smart DFE was reportedly developed in the early stages of the Jet Press FP790's creation by Fujifilm's Research and Development team and HYBRID's specialist software developers.
The web-based, open architecture production workflow is thought to increase turnaround times, maximise productivity, and reduce operating costs through its fully automated prepress functionality. Its modular configuration can also cater to specific user requirements, according to Fujifilm, optimising workflow and upstream customisation.
The Jet Press FP790 has been designed to provide high-quality output for flexible packaging applications in line with regulatory requirements, apparently capable of reproducing over 90% of the PANTONE colour gamut as well as high-quality 1200 x 1200 dpi image reproduction. It also provides two dedicated white inkjet channels for high white opacity print.
Its incorporation of water-based inkjet print technologies also aspires for a more sustainable and environmentally friendly printing process.
"HYBRID Software holds an enviable reputation in the packaging sector for delivering world class, innovative workflow solutions," says Manual Schrutt, head of Packaging at Fujifilm Graphic Systems EMEA. "Working with HYBRID's R&D team, its highly skilled software developers and drawing on their extensive knowledge of workflow solutions for the packaging sector, has enabled us to develop a very fast, robust and uniquely smart DFE infrastructure for our new Jet Press FP790 press. This will deliver maximum production efficiencies and the highest quality output required to meet the ever-growing demands of the flexible packaging market, now and into the future."
Mike Agness, executive vice president, Americas at Hybrid Software, adds: "It has been extremely rewarding to combine the USPs of our two companies and their complimentary offerings to help Fujifilm bring such an exciting new print solution to market. The combination of our extensive knowledge and understanding of RIP-to-print production workflows for the packaging sector, and Fujifilm's expertise in colour management and print production has been a perfect match in the development of the innovative technologies that lie at the heart of the new Jet Press FP790."
Another recent development saw Fujifilm release its Acuity Prime L flatbed printer with an ink system specific to its series, expected to increase productivity and ROI for print service providers.
Canon has also launched a new generation of high-speed, web-fed inkjet presses for commercial print with its ProStream 3000 series, and hubergroup Print Solutions has revealed its first coldset and heatset inks for food-compliant paper packaging, set to enable brand customisation for recyclable packaging solutions.