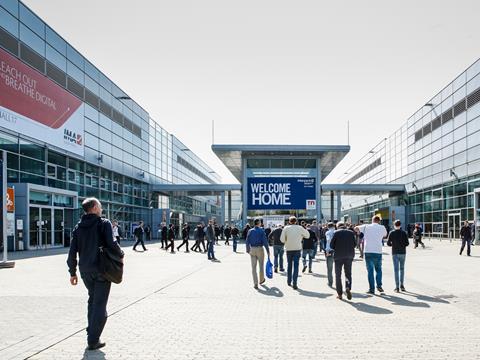 Photo: Messe Düsseldorf/ctillmann
The WPO (World Packaging Organisation) hopes that its Lounge at interpack 2023 will serve as a meeting point for packaging professionals and companies from different parts of the world.
"The idea is to have a strategic location to welcome our members, corporate partners, and the global packaging community in a special area and to interact with them to present WPO activities and to show how we can contribute to the development of the packaging sector globally", says WPO President, Pierre Pienaar.
According to Luciana Pellegrino, Senior Vice President for Marketing: "interpack is a very important and special occasion for WPO since most of WPO Board Members attend it and we have the opportunity to reconnect in person and to plan the future activities".
Besides the Lounge, which will be located on Hall 6.1 Gallery, WPO will host its first board meeting of 2023, on May 7th, with the election of the new President for the 2024-2026 period. Another important activity is the WorldStar Award Gala Ceremony on May 6th.
"We thank the interpack team and Messe Düsseldorf for another year of partnership and for hosting our ceremony where packaging innovations from around the world will be celebrated. It is a win-win situation, the biggest packaging trade show together with the maximum association in the packaging field, working together to offer the best solutions aligned to our vision," says Soha Atallah, WPO Vice President Events and WorldStar Coordinator.
"We should remember that institutionally WPO, through its members (packaging associations and institutes), also aims to educate packaging professionals and society about the important and invaluable aspects of packaging.
"We are advocates for packaging: good packaging, cost-effective packaging, packaging that contributes to creating a more sustainable society. The world cannot do without packaging, so we must educate people everywhere to respect the purpose of packaging and teach them how to incorporate this tool into the process of building an ever more sustainable society," concludes WPO President, Pierre Pienaar.
If you liked this article, you might also enjoy:
McDonald's Director of Sustainability in Europe on the company's approach to packaging sustainability
McKinsey on whether or not on-pack sustainability claims affect consumer spending
Perspectives from industry-leading experts on the EU's Packaging and Packaging Waste Directive revisions
A deep dive into the most important packaging sustainability trends and solutions