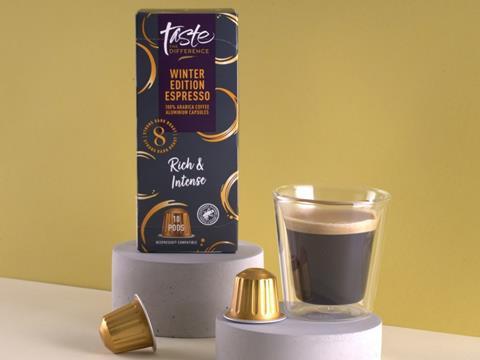 Sainsbury's has announced that its entire own-brand coffee pod range will now be packaged in aluminium, hoping to facilitate home recycling and spare ten million pieces of plastic from landfill every year.
Consumers are being encouraged to empty the aluminium pods with a teaspoon and rinse them – or to purchase the Dualit EcoPress to remove the coffee grounds from capsules – and dispose of them via kerbside recycling.
Such a change would negate the need for used pods to be collected and recycled through other organisations, enabling consumers to be certain that their waste is entering the appropriate waste stream.
Set to roll out this month, the change will reportedly cover the entire Sainsbury's coffee pod range, which has supposedly offered a fully recyclable aluminium variant since last year. It is hoped that enabling a straightforward recycling process across the range will lead to higher rates of recycling.
The company consider the transition a step towards its goal of halving its own-brand plastic packaging by 2025, alongside other packaging redesigns in its 1L refillable handwash pouches and double-length toilet rolls – said to save 28 and 84 tonnes of plastic a year, respectively.
In March, Pret A Manger worked alongside the Podback recycling service to collect its aluminium at-home coffee pods through kerbside collection and drop-off points; it was hoped they would be recycled into new products such as beverage cans.
Meanwhile, other companies have sought to tackle single-use coffee capsules, as Tchibo, Berry and Neste did in a collaborative effort to implement 70% bio-based materials into Qbo Coffee capsules.
Coda Group, now Rosiro Group, previously launched a home-compostable material made from agricultural waste, intending to replace both plastic and aluminium coffee capsules.