A partnership between Berry Global, its customer Tchibo and its supplier Neste has introduced a coffee capsule made from 70% renewable sources that does not compete with food supplies.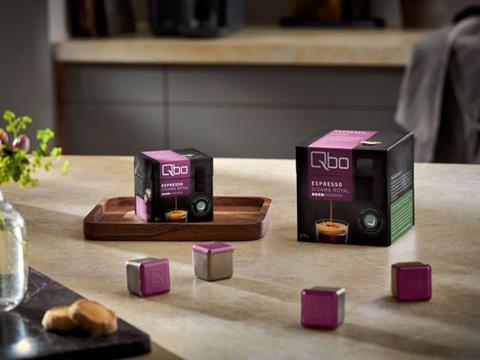 Coffee capsules are becoming increasingly popular but they are often designed for single-use and are made of virgin polypropylene (PP).
For its Qbo brand, German coffee producer Tchibo therefore sought to optimize the material in its capsules, working with Berry and Neste. The result is the launch of a coffee capsule that reportedly is produced from identical types of polymers, which instead are made by using bio-based raw materials such as waste and residue oils and fats, for example used cooking oils.
A life cycle assessment by the Technical University of Berlin, carried out in compliance with ISO 14040/44, has shown that the conversion of the Qbo capsule material results in around 35% fewer CO2 emissions.
"While our Qbo capsules are still made of PP, this is now produced from 70% renewable raw materials instead of virgin fossil oil as is normally the case for coffee capsules," explained Marius-Konstantin Wiche, development manager, capsule & innovation at Tchibo. "This makes the entire Qbo range – containing sustainably grown Qbo coffee brewed in Qbo machines – one of the most sustainable capsule systems on the market."
The renewable materials are supplied via a mass balance approach, certified by the International Sustainability & Carbon (ISCC PLUS) system. Mass balance certification enables the proportion of bio-based raw materials used in the production value chain to be mathematically assigned to the final product, so that this can be advertised on the packaging. The certification therefore provides full traceability throughout the supply chain, from raw materials to finished coffee capsule, as well as sustainability validation of the raw materials.
The renewable solution is described as offering the same quality and properties as conventional ones, meaning the new capsules provide an identical performance and product experience. In addition, the renewable feedstock can be easily introduced into existing production lines with no changes required.
"We needed to ensure that the high quality and great taste of the Qbo coffee would not be affected," confirmed Marius-Konstantin Wiche. "That's why we focused on replacing the raw materials for the capsules, not the PP itself. The renewable materials go into producing PP polymers with the same quality as virgin PP; you won't see or taste any difference."
For Berry, the introduction of the new capsules supports its recently announced commitment to achieve 30% circular plastics use across its fast-moving consumer goods packaging by 2030 as the company envisions decoupling from virgin plastic and fossil fuels in the long term.
"Supporting our customers' growing sustainability commitments is a key priority as we plan for the future needs of a net-zero, circular economy," said Jean-Marc Galvez, President of Berry Global Consumer Packaging International. "Delivering the infrastructure and manufacturing capabilities to design products for circularity is one of our core competencies. I am incredibly proud of this partnership and its commitment to demonstrate the potential of renewable raw materials to lower the environmental impact of capsules."