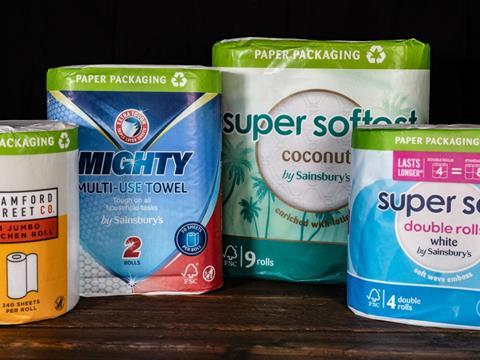 Sainsbury's expects to save 55 million pieces of plastic every year by implementing recyclable paper packaging across its own-brand toilet paper and kitchen towel ranges.
In what is said to be the biggest plastics reduction effort in the retailer's grocery business to date, Sainsbury's is transitioning 27 of its products into paper packaging that consumers can dispose of through kerbside recycling. This roll-out will apply to products purchased in-store and online and is set to be completed by February 2024, apparently saving 485 tonnes of plastic.
The move comes after Sainsbury's introduced double-length toilet rolls, featuring twice the number of sheets per roll. Apparently, this cuts down on plastic packaging by 30% and saves 84 tonnes of plastic annually.
Claire Hughes, director of Product and Innovation, said: "We sell thousands of our own brand toilet tissue and kitchen roll products every week and by switching from plastic to paper on these household staples, we're able to make a significant impact in reducing plastic. This change alone represents the biggest plastic reduction in our grocery products so far and our customers can expect many more changes to come.
"Collaborating with our suppliers to develop innovative packaging solutions to reduce plastic is a major key priority for Sainsbury's, helping us to achieve our ambitious target of increasing recycled content and recyclability."
Other plastic reduction efforts from Sainsbury's include its decision to repackage its 750ml own-brand laundry detergents in home-recyclable cardboard cartons. The change is hoped to save 22 tonnes of household plastic waste a year.
It also sought to reduce its annual plastic usage by 450 tonnes by replacing the tray packaging of its beef mince range with vacuum packs. However, consumers criticized the decision for sacrificing the home recyclability of the previous design and impacting the texture of the product.
In a more relevant development, Billerud has developed machine-glazed kraft paper to wrap toilet and kitchen paper rolls. As well as recyclability, it is said to offer biodegradability, lower carbon emissions, and strength that is comparable to polyethylene alternatives.
If you liked this article, you might also enjoy:
The L'Oréal approach to packaging sustainability
What steps is Apple taking to make its packaging more sustainable?
How did Brazil achieve its 100% aluminium can recycling rate – and can it be replicated in the EU?
Experts have their say on the EU's Packaging and Packaging Waste Directive revisions