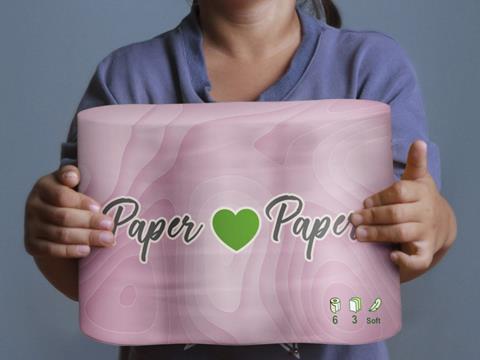 Billerud has released its machine-glazed kraft paper to wrap toilet and kitchen paper rolls – claiming to offer recyclability, biodegradability, and the same strength as polyethylene alternatives, alongside reduced carbon emissions.
The long, white, virgin fibres used in the packaging are expected to enable high-quality printing while offering as much resilience as polyethylene plastics, according to drop tests – thus minimising the risk of damage to the products within.
Furthermore, this strength is expected to reduce the necessary material weight and, as a result, save resources. Machine glazing is said to provide both strong sealing power and a smooth finish.
With the widespread use of kitchen and toilet paper, it is hoped that transitioning to paper wrapping will drive down plastics consumption and carbon emissions. The solution also expects to meet consumer expectations for more sustainable packaging, with Billerud citing a 2021 Ipsos Global survey of 20,000 consumers suggesting that three out of four customers want to eliminate single-use plastics.
"With this paper solution we make it easy for brand owners to switch from plastic to paper wrapping, without having to compromise on performance," says Danevert Åsbrink, senior director of Product Management at Billerud. "It provides customers an opportunity to grow business by meeting new consumer demand through renewable and innovative applications."
Mondi has utilised kraft paper replacements in various sectors, from its expandable paper bag for Megaflex Schaumstoff's rollpacked mattresses to a recyclable paper band for bundles and individual products developed in collaboration with ATS-Tanner.
M&S also partnered with Bowel Cancer UK last year, aiming to raise awareness around the condition through messaging printed onto its toilet paper packaging.
If you liked this article, you might also enjoy:
McDonald's Director of Sustainability in Europe on the company's approach to packaging sustainability
McKinsey on whether or not on-pack sustainability claims affect consumer spending
Perspectives from industry-leading experts on the EU's Packaging and Packaging Waste Directive revisions
A deep dive into the most important packaging sustainability trends and solutions