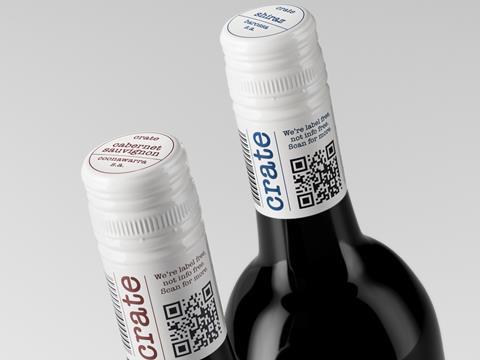 The label is often the most distinctive part of a wine bottle, and Crate by Australian winery Fourth Wave Wines sets itself apart through the absence of any label at all. What is claimed as a first-of-its-kind label-less wine, takes a unique approach to sustainably for its high-quality, barrel-matured red wines.
Through cooperation with drinks branding specialists Denomination, who designed the concept, this truly minimalist packaging conveys all necessary information on the digital capsule on the bottle neck, which includes a scannable QR code. This packaging innovation touches not only on plastic use, but also the use of paper labels and their contribution to waste streams.
The capsule contains all mandatory information, brand logotype, varietal, region, vintage, legal claims, barcode, brand messaging, and the QR code for further information; while using the typography to give the illusion of space. The brand clearly lays out its position on the carton: "our planet matters more than our packaging." It informs the consumer that no label saves energy, no glue saves waste, no paper saves trees.
"Fourth Wave Wines is constantly striving toward greater sustainability and, with the launch of Crate, is shining a light on alternatives to conventional packaging that use paper labels, an increasingly precious commodity" said Nicholas Crampton, co-owner at Fourth Wave Wines.
"We enlisted the team at Denomination because they always put sustainability at the heart of everything they do. What they have created is a design that allows the quality of the wine to shine, while stripping away unnecessary waste from the packaging. There's no label printing, no adhesives, no paper usage, and less energy used on the bottling line with the removal of the label component."
In the company's view, environmental concerns have led to a decrease in the use of plastic and paper resources are being used to compensate. This has led to increased pressure on forests, leading to deforestation, it says. In addition, in order to apply a paper label to a bottle, often a PET liner needs to be used, adding the use of crude oil to the mix. Crate is hoping to do away with all this with its sleek, pared-back design.
The spotlight is firmly on the wine, not the packaging. Rowena Curlewis, co-founder of Denomination, says. To do this Denomination could only use the wine's essential components: the bottle and the capsule. "The challenge was finding the most energy-efficient choice. Printing on the bottle would have involved using incredibly high temperatures, so we chose the capsule, even though it meant being creative in a smaller space."
"This is a provocative and brave design for a brave brand. As we talk about sustainability, we need to take risks, move beyond the conventional and explore other ways of branding and messaging," said Curlewis.
Crate Barossa Shiraz, Coonawarra Cabernet and McLaren Vale Shiraz are currently retailing through independent stores in Australia.
For a full update on active and intelligent packaging, come along to the AIPIA World Congress (co-organized by Packaging Europe) in Amsterdam on 14-15 November. The only smart packaging event covering the entire technology spectrum, the World Congress is a meeting place for the global active and intelligent packaging industry where brand owners, innovators, and other stakeholders can network and see and discuss the latest trends and innovations. Register to attend here: https://packagingeurope.com/aipia-world-congress/tickets