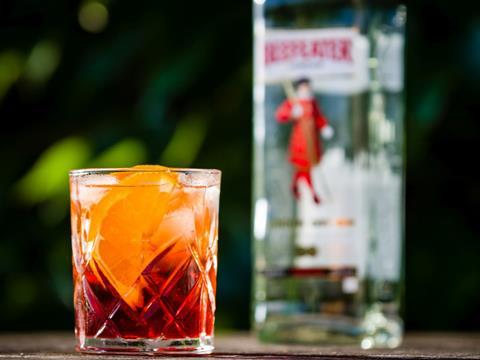 Convivialité Ventures, Pernod Ricard's venture capital fund, has taken a minority share in circular economy technology startup ecoSPIRITS, which seeks to establish a low carbon, low waste, closed-loop distribution system for the premium wine and spirits industry.
ecoSPIRITS' distribution technology facilitates the delivery of large and reusable glass containers to hospitality venues in a bid to eliminate waste in the packaging chain. It also seeks to reduce carbon emissions and production costs by avoiding the production and transportation of both glass bottles and other secondary packaging.
An existing collaboration saw ecoSPIRITS distribute Absolut Vodka, gin brand Beefeater, and the Havana Club brand of rum in 4.5-litre containers to locations in Hong Kong and Singapore.
Pernod Recard has now joined Closed Loop Partners, Proterra Asia, Pavilion Capital, and existing ecoSPIRITS investor Wavemaker Partners, amongst others, in a $10 million Series A funding round. The money is set to contribute towards ecoSPIRITS' leadership position and R&D, especially its hardware, software, and IoT research and development programme.
The company also aims to widen its operations in key global markets, including the United States, and expand its regional customer and engineering teams in Miami, London, Singapore, and Shanghai.
"We are very pleased to participate in this investment which will help develop a company offering such an innovative solution to our industry, by drastically reducing waste and carbon emissions," said Stéphane Longuet, co-founder and managing director of Convivialité Ventures. "ecoSPIRITS' approach is perfectly in line with our Group's objectives to reduce its carbon emissions and we are looking forward to using it on a large scale around the world."
Sui Ling Cheah, executive board chairman at ecoSPIRITS, added: "We are thrilled with the successful close of our Series A round, which not only validates ecoSPIRITS' impressive progress in building a comprehensive technology platform, but also marks a significant milestone in our journey to global scale. We are equally honoured to welcome leading investors to our journey such as Closed Loop Partners, Proterra Asia, Pavilion Capital and Convivialité Ventures. The future gets brighter when more resources are invested in circular economy innovation."
Packaging Europe reported on a variety of efforts to make wine packaging more sustainable. Small Things Wine founder Ian Batt told us about his company's decision to sell its wine in cans, while Rob Malin, founder of When In Rome, expanded on the impact its paper bottles would have on the wine sector.
More recently, DS Smith sought to complement Laylo's premium boxed wine packaging with improved protective properties and sustainability metrics.
In another collaborative effort to raise funds, Aliaxis, Stora Enso, Amcor Ventures, and more contributed to a €31 million private placement for the global roll-out of PulPac's Dry Molded Fiber technology.
If you liked this article, you might also enjoy:
McDonald's Director of Sustainability in Europe on the company's approach to packaging sustainability
McKinsey on whether or not on-pack sustainability claims affect consumer spending
Perspectives from industry-leading experts on the EU's Packaging and Packaging Waste Directive revisions
A deep dive into the most important packaging sustainability trends and solutions