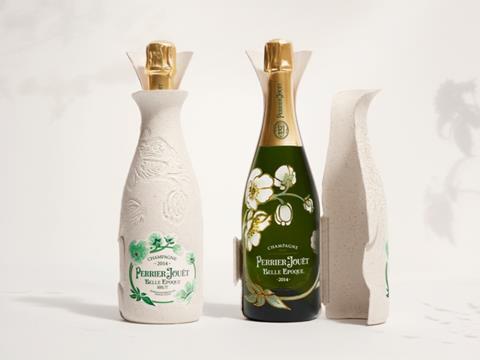 Pernod Ricard is pursuing circularity in its high-end drinks packaging by removing unnecessary box packaging from its portfolios, designing a glass flagon for its Royal Salute Scotch, and creating lighter, recyclable bottles for its Perrier-Jouët champagne.
All gift boxes are set to be removed from its Jameson Irish Whiskey range in an effort to save around 4 million single use cartons in the next two years. The secondary packaging will gradually be removed from whiskey packaging sold in store between now and the end of 2025.
Similar changes will apply across the Irish Distillers portfolio, including the removal of gift boxes from its Powers, Spot Whiskeys, and Knappogue Castle brands. Gift packs containing secondary items like hipflasks or drinking glasses are also set to be 100% recyclable and FSC-certified, with new products said to be examined by an eco-design tool to ensure their compliance with Pernod Ricard's 'circular making' strategy.
Meanwhile, Aberlour whisky will also phase out all non-recyclable box packaging, and Royal Salute Scotch will be packaged in a coated glass flagon. As well as claiming to be recyclable, the flagon is expected to offer a lower carbon footprint due to its less energy-intensive production process.
Perrier-Jouët has already been packaged in a new gift box: Perrier-Jouët Belle Epoque Cocoon, which is made from paper pulp and vine shoots and is said to weigh only 49 grams. Reportedly, this cuts down the weight of the previous gift box design by 93%. Any decoration is embossed directly onto the new packaging in a bid to minimise the use of varnish, glue, and print.
Over 90% of packaging waste generated at Perrier-Jouët's champagne House is sorted and recycled, Pernod Ricard claims. However, a 'significant portion' of a champagne bottle's environmental footprint is said to come from glass.
Therefore, Maison Perrier-Jouët is collaborating with its glass suppliers to lightweight its bottles. The House expects to cellar its three Perrier-Jouët Belle Epoque vintage cuvées in bottles made of green glass from 2024. These bottles claim to contain 85% recycled glass and protect the wine from light throughout its value chain.
Additionally, Pernod Ricard has partnered with the Ellen MacArthur Foundation in pursuit of its sustainability goals. All its secondary packaging is hoped to become recyclable, reusable, compostable, or completely removed by late 2025.
Its 2030 Sustainability & Responsibility roadmap, 'Good Times from a Good Place', also involves the development of Global Sustainable Packaging and POS Guidelines for its 70 affiliates. These provide specific guidance regarding materials the company no longer uses and which alternatives can be used to replace them.
Earlier this summer, Pernod Ricard's venture capital fund, Convivialité Ventures, took a minority share in ecoSPIRITS in an effort to close the loop on premium wine and spirits distribution.
Waitrose has removed plastic and foil sleeves from the necks of its own-brand wine bottles; DS Smith and Laylo have sought to enhance the sustainability metrics of the latter's premium boxed wine packaging; and Fourth Wave Wine has unveiled what claims to be the first label-less wine bottle with the intention of reducing packaging waste.
If you liked this article, you might also enjoy:
McDonald's Director of Sustainability in Europe on the company's approach to packaging sustainability
McKinsey on whether or not on-pack sustainability claims affect consumer spending
Perspectives from industry-leading experts on the EU's Packaging and Packaging Waste Directive revisions
A deep dive into the most important packaging sustainability trends and solutions