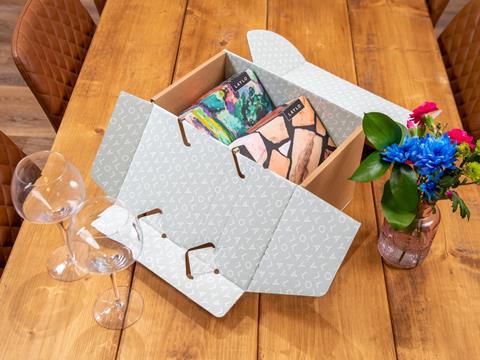 DS Smith has collaborated with Laylo to enhance the protective properties of its premium boxed wine packaging whilst amplifying the solution's sustainability metrics.
Using its Circular Design Metrics analysis software, DS Smith reports that the final design and kraft materials – which claim to utilise a size-efficient area of material – result in a footprint of 202 grams CO2E.
The pack is designed to hold the wine packs at an angle to reduce the number of exposed edges and corners. Thus, in tandem with wine packs and outer pack to cradle, the inner fitting decreases the likelihood of damage in the event of drops, impacts, or shocks during its journey through the supply chain.
Apparently, the longer fibres of the kraft paper helps with impact and drop resistance, and the additional protection is thought to increase the likelihood that the product will arrive in pristine condition. Moreover, the print and structure have apparently been combined into a two-step open and reveal to enhance the experience of opening the pack.
"We established Laylo because we saw the sustainability benefits of boxed wine, and we knew our biggest challenge was to change perceptions around quality," said Laura Rosenberger from Laylo. "To do that, we designed beautiful packaging you'd be proud to have on your countertop. We want every box to arrive in perfect condition, and for the unboxing experience to demonstrate the quality and expertise behind the brand.
"DS Smith has been the perfect packaging partner to work with. From start to finish, the collaborative and hands-on approach to design and product development left us feeling assured that our new packaging could withstand the rigours of the supply chain and wow our customers."
"No one wants to receive damaged goods, especially when they're expecting to receive a premium product that tastes even better than it looks," added Anne Curtis, business unit lead for E-Commerce at DS Smith. "However, the demands of e-commerce put intense pressure on packaging as it moves through the supply chain - with some products reaching greater G-forces than an Astronaut travelling through the atmosphere to space.
"This is why we put packages through their paces – we use an impact intensity measurement to see how they fare, and what we find is that the answer is not more packaging, but better designed packaging. This is the kind of innovation our designers are focused on, as well as finding ways to make every item as sustainable as possible."
Back in 2020, DS Smith developed a closed-loop recycling system in partnership with Laithwaite's Wine to increase visibility across the supply chain.
Last summer, we spoke to Rob Malin from When In Rome about the impact of paper wine bottles on the European market and beyond.
In a more recent development, Maison Perrier-Jouët and Colourform by James Cropper recently unveiled a luxury gift wrap for wine bottles made of paper pulp and vine shoots.